As much as #INBOUND is all about marketing, sales, service, technology, and what's new with HubSpot… it's also about the Boston experience.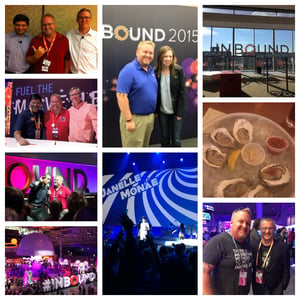 You'll also want to make sure you're taking a breath during the chaos. If nothing else, you'll want to prepare your mind and body for marathon days of inspiration, education, and connection.
So while you're visiting historic and character-laden Boston, what else can you do besides attending sessions and parties?
I've been to INBOUND 7 years. I've had experiences each year that make them unique and endear me that much more to INBOUND and HubSpot (and Boston!). I want to share a few ideas to help you make your INBOUND experience amazing.
Here are 10 things to do around INBOUND.
1: Walk the Freedom Trail
If you're in one of the most historic cities in the United States, you just have to check out the sites. Of course, there are a ton to choose from. Start with this, as you'll be able to see quite a few while getting some fresh air and exercise.
The Freedom Trail is a 2.5-mile-long path through downtown, that passes by 16 locations significant to the history of the United States. Marked largely with brick, it winds between Boston Common to the Bunker Hill Monument in Charlestown.
2: Find an #INBOUND19 Yoga Session
Take care of your mind and body both - take time for yoga! Whether you're searching the app for fellow yoga practitioners, or you're searching Twitter for #INBOUND19yoga sessions, you're apt to find like-minded attendees focused on focus.
The great thing about physical activity (that also centers your mind) is that you'll refresh your mind so you're ready to take on the day!
3: Visit the Samuel Adams Brewery
I'd always thought of Samuel (Sam) Adams as a macrobrew that just had the feel of a micro. But then I visited Boston. There's a fan base in Beantown that rivals any beer culture out there. And it's there in part because Sam Adams might be one of the first modern era microbrewers, but with a national (or nearly national) audience.
You'll have some Sam Adams flavors to choose from at #INBOUND19. But visiting the brewery is a whole other experience.
Samuel Adams is the flagship brand of the Boston Beer Company. The brand name was chosen in honor of Founding Father Samuel Adams. Adams inherited his father's brewery on King Street (modern day State Street). Some histories say he was a brewer, while others describe him as a maltster. Visitors of The Samuel Adams brewery can take a tour, and shop beers and merchandise.
4: Catch a Game at Fenway
The Boston Red Sox have a few home games during #INBOUND19. They're hosting both the Minnesota Twins and their nemesis, the Yankees.
Fenway is one of those baseball stadiums that you just have to visit at least once. If you can get away for an evening, especially with a group of happy HubSpotters you've just met this week, you'll have an INBOUND experience you'll always remember.
5: Eat Lobster
I mean, come on. You can't visit Boston and NOT eat "lobstah"! Whether you hit up a Legal Seafood or Yankee Lobster Company, you have to have East Coast lobster while you're in town! And if it's on a company expense report, bonus! 😂
One great way to eat lobster without all the work is to find lobster rolls - great local sandwiches.
6: Visit an Oyster House
Specifically, Ye Olde Union Oyster House. It's where original Bostonians and former Presidents have tables! Look, oysters aren't for everyone. But until I went to an oyster bar with my friend Rob Ciampa for the first time, I'd never thought I could eat them.
I was wrong. They're amazing.
So if you can go to an oyster bar with someone who knows what they're doing (Rob could tell me the regions the oysters came from, what they'd taste like, and what wine paired well with them), you're in for a real treat. But if not, at least find some friends and visit one anyway. Be adventurous!
7: See Paul Revere's House
One if by land. Two if by sea. The British are coming! (And they're visiting Paul Revere's House!) Visit this historic site for fun and education! You're in Boston after all. Plus, it gets away from the INBOUND chaos for a minute.
8: Go for a Run Through Historic Boston
Much like yoga at INBOUND, taking a run can help set you up for a great day. Look for running groups in the app or in the #INBOUND19 Twitter community. And if you can't find one, start one!
In the early morning before the commute really kicks off and the tourists (like us) take over, the streets of Boston are beautiful. Even if you're not a runner, taking a good, long stroll for exercise is great.
9: Visit the Lawn Area - Without the Food Trucks
The INBOUND organizers do an amazing job, and the BCEC is such a great venue. The lawn area where the food trucks line up is a great place for a break. From the swings to the chairs to the people just hanging out, the lawn area is great.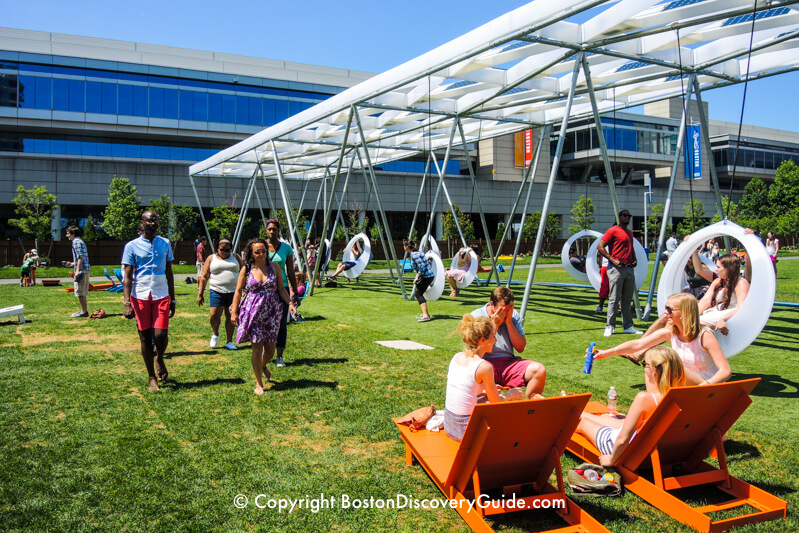 The best time to go is when the crowd is a little thinner after lunch is over and the food trucks are gone. Get some grass under your feet, breathe, and take it all in. Then get back to the sessions and the inspiration!
10: Go to INBOUND Rocks
Even if you're not sure who the entertainment is or if they're for you. The year Cyndi Lauper performed, I wasn't sure I'd like it. I was wrong. The year Janelle Monae performed, I thought I was too old for her music. I was wrong. The year One Republic performed I was blown away. I wasn't sure about Amy Schumer... a comedian? Really? I was wrong... you get the picture. The INBOUND Rocks event is a ton of fun and you'll be glad you went.
The one year I missed going was the year Noah Trevor performed. It was starting late and I skipped - and I later wished I'd have gone. I heard he killed it, and now his show is huge.
BONUS: Visit HubSpot Headquarters
A couple of the times I've been to INBOUND I've had the pleasure of touring HubSpot HQ. I'm honestly not sure if they offer open tours, but if you're a customer ask your HubSpot rep. Or if you're an agency client, ask that agency - they're a HubSpot partner and might have a connection! If you can make it happen, it's really cool. And it doesn't hurt to ask. The worst thing that can happen is you're told no.
BONUS: Go to Modern Bakery for a Cannoli
Some people will fight me on this, and it's okay. They're wrong, but it's fine. Boston is heavily influenced by Irish and Italian heritage, among many other cultures. But it's hands-down the best place I've been to for a life-changing cannoli. And it was at Modern Bakery.
You'll see people walking around with boxes from Mike's. Nothing against that bakery - they're good. But Modern is where it's at. Make your way there - walk if you have to. But take cash. They do not accept credit cards.
Enjoy Your Time at INBOUND
Above all else, enjoy your INBOUND experience. Out of the 8 years I could have been there, I've missed one year. And it killed me. I really thought it wouldn't matter - I'd been to 7 years worth of inbound marketing goodness - but it really is so much more than that. Part of the reason is that I enjoy so much that Boston and her people have to offer.
If you're headed to #INBOUND19, hit us up at Impulse Creative. We'd love to meet up!
Author Dan (on the far right) with Jen, Tom, Sam & Ed.
Need "Survival" Tips? Read: 42 Expert Tips and Tricks to Survive Inbound