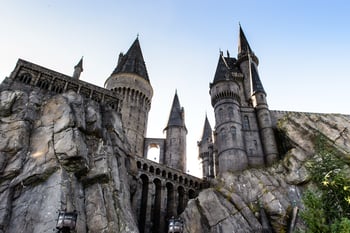 Harry Potter has been a cultural phenomenon since 1997 when children were first introduced to Hogwarts and its magical world of witchcraft and wizardry. Since then, there have been seven books, eight movies, and a multitude of online communities dedicated to the franchise. Fewer books have made a bigger impression on culture than the Harry Potter series, and the series truly shaped the pre-teen years of Millenials.

The Harry Potter books are more than just entertaining pieces of fiction that will keep you occupied for hours on end. The books and movies are full of symbolism and life lessons, and they have more to reveal about marketing best practices than you'd realize. For the sake of research, we took some time to read the books and watch the movies to uncover some of the biggest inbound marketing lessons from the Harry Potter series:

One person is never enough
Harry Potter never would've been successful in defeating Voldemort without the support of his friends at Hogwarts. Loyalty is a major theme that unites the seven books. Without the support of Hermoine, Ron, and the rest of Dumbledore's Army, Harry never would've been able to take down Voldemort and save Hogwarts.
When it comes to marketing, one tactic is never enough to win the war. Content marketing, social media, website optimization, campaigns, and SEO can all be incredibly effective in helping your business' bottom line. However, they're far less effective when used on their own. Take it from Harry: you'll be able to compete with the darkest forces when you take a multifaceted approach instead of relying on one single tactic.

Never underestimate the little guy
Harry Potter was thrown into the wizarding world after years of living in the Muggle world. He was unfamiliar with how to fly a broom, the power of different wands, or how to cast a spell. Even though he had no idea what he was supposed to do, he found the courage and strength to confront the darkest wizard of all time.

Just because you're a small business doesn't mean you can't be successful. Small businesses often feel like marketing is something for the "big guys." If you feel overwhelmed by the thought of marketing for your business, just remember that determination can go a long way. Figure out what resources you have available and use them to your advantage, and don't be afraid to be innovative and personable in your messaging. Being a small business doesn't mean a thing when it comes to marketing, and you can compete with the bigger companies out there – you just have to believe that you can.

Always keep your eye on the snitch
As the seeker, Harry has one responsibility during a Quidditch match: to find the snitch and catch it before the opposing team does. No matter what he does or where he flies, there's only one thing on his mind: the snitch.

Whenever you start a new marketing campaign or implement a new tactic, you should always keep your eye on the snitch. In the marketing world, goals are our snitch. If you're thinking about trying something new, think about whether it aligns with your goals. Whether it's implementing a new campaign or switching over to new marketing software, everything you do for your business should be tied to a goal. Goals are what keep you on track and help turn your dreams into a reality. Whatever you do and wherever you go, keep your eye on the snitch.

There's always going to be a Draco Malfoy
Harry has a lot of enemies, but the most vocal is Draco Malfoy. During his time at Hogwarts, Harry deals with Draco constantly tormenting him. At every twist and turn, Draco finds another way to try and bring down Harry Potter. As a business, you're going to experience a lot of the same things. There are going to be haters, and people are going be vocal about how much they dislike you. In today's digital age, there's no way to avoid it.

The one thing you can learn from Harry Potter is how to handle the negativity. Sure, there were times where he lashed out at Draco, but, for the most part, he handled the negativity rather well. He listened to what Draco had to say but never let it stop him from achieving his end goal of defeating Voldemort. When it comes to online criticism, listen to what your haters have to say and try to make the situation right. At the end of the day, focus on your end goal – and keep doing you.

Are there any other marketing lessons that you've taken away from Harry Potter? Let us know in the comments!

Photo Credit: Hattanas Kumchai / Shutterstock.com