In a world where every brand is scrambling to get their social media just right by leveraging analytics, marketing, focus groups and the help of agencies, there's a whole slew of brands accruing huge social media followings by doing it wrong.
They're making fun of social media, making fun of themselves and using their brand name in channels that rely on anonymity.
Start thinking outside of the normal social media feeds and begin reaping the brand benefits.
Get Ridiculous on Pinterest
My absolute favorite pinterest accounts are brands that have no business being there. This social media channel is a virtual scrapbook of ideas for recipes, beauty hacks, crafts, fashion, art and DIY projects. It's also dominated by women.
Don't expect to see a lot of marketing here for men's brands. Unfortunately, it's a huge missed opportunity because in many consumer households, women make the purchase decisions for everyone.
One brand that took the challenge to absolutely rock Pinterest is men's hygiene product superstar Old Spice. They're getting a huge following by posting the content people come to Pinterest for, in the weirdest, most hilarious way: useless, terrible crafts using old spice product containers.
Check out their Pins for yourself:
Nothing Beats the Facebook of Mascots or Products
Personify your brand by giving your mascot or products their own social media accounts. Because it doesn't matter how old we get, everyone still loves socializing with fictional characters. And it's a hell of a lot of fun to write.
Just ask:
Don't have a mascot? Try tweeting or facebooking as your signature product. This strategy is even funnier when your personifying something without a face.
Fire Back at Twitter Trolls
In an age where every business is expected to make a public apology to every customer with the nerve to post something negative about them online, stand out by calling people on their bullshit.
Be Like Wendy's: who flatly told an internet troll he was wrong when he accused them of using frozen beef. His response then was to ask, "So you deliver it raw on a hot truck?"
Wendy's was quick to remind him that he forgot what refrigeration was, then going viral as one of the best all-time online brand responses.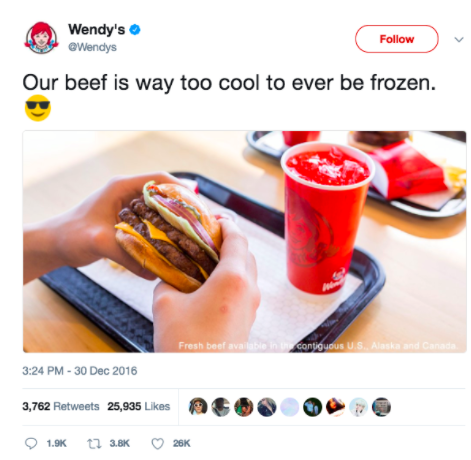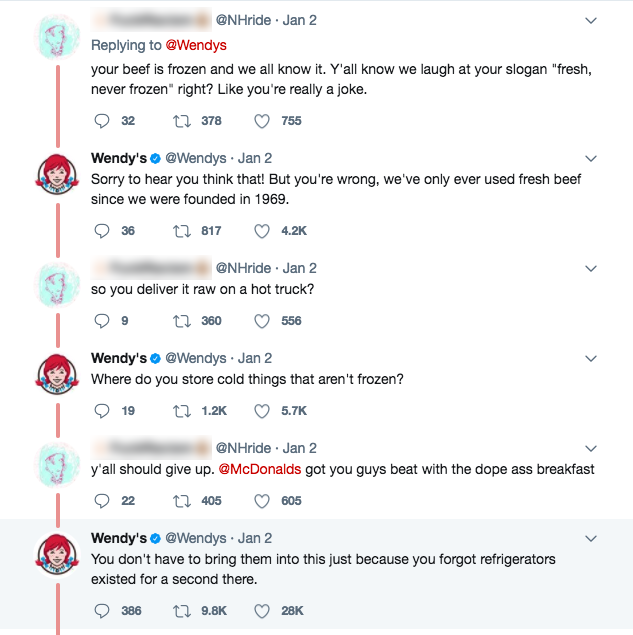 Reassurance on Reddit
Nothing says "Our business is here for you" like actually being where I am, when I need you.
Recently, I had some trouble with an app that was down when I needed it. When I wanted a timeframe on the outage, I went directly to the subreddit where I first discovered the app.
The first thing I saw was a thread about the app being down. When I opened the thread and saw the comments, one of the top posters was an official representative of the app reassuring everyone that their brand was aware of the problem and the app would be back online momentarily.
The best part of that brand interaction is realizing that they were there the whole time, only interjecting when it would be seen as helpful, not invasive. That brand could have chosen to lurk around Reddit anonymously interjecting comments in favor of their products (a forbidden but too common practice). Instead, they were total professionals, giving unbiased information when and where their users wanted it.
***Disclaimer: It is a very bad idea for a business to start Redditing without understanding how it works. This is not like any other social media channel. It's a fickle mistress of subcultures within subcultures. You'll need to find someone on your staff who understands the language, culture and most importantly the rules, before you dip even a toe in here.***
Unlikely Instagram Accounts
Oh Instagram, you beautiful false reality where everyone looks younger and happier than they really are. On Facebook's quirky photo-only cousin, brands pay big bucks to see their products looking hot and hip in your feed.
In the real world, the products we need most aren't very hip or sexy, like plumbing, medical care, storm blinds, software, houses, B2B services, etc. So, it makes sense that most brands probably haven't even considered using Instagram. But if your consumers use it, you can get business there. You just need a different strategy.
Try pairing your product with something people do want to see on Instagram. Or just put a fun spin on whatever it is you do. A lighthearted or laughable approach could get your brand a much bigger following than you ever expected, like these:
Vodka for Dog People (Titos)is literally just photos of dogs and Tito's vodka, or wearing brand swag. Nearly 10,000 followers.
The Official TSA Account in which the government posts pics of your weird confiscated luggage. 796,000 followers.
Maersk Line, the world's largest shipping company makes what is possibly the most boring industry on the planet look like an epic international adventure. 67,000 followers.
Maybe it's time to start asking yourself how you can start doing social media wrong.
Your brand will thank you for it.