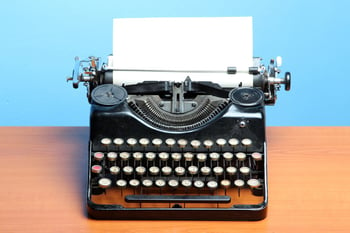 Writing a blog isn't easy – especially if it's not something you've done in the past. To experienced bloggers and copywriters, writing a blog is second nature. In fact, seasoned bloggers probably don't think much about what goes into a blog post. They just do it. But for those of you who haven't done this much, or even at all, the process of writing a blog post is incredibly intimidating.
Our graphic design rockstar,
Logan
, recently wrote his first blog for Impulse Creative. During the writing process, he asked the inbound team whether any of us had written a blog about the elements of a blog post. I thought about it and quickly realized: No, we haven't. But we should.
Although every blogger has their own writing process, there are a few key elements that all of the most effective blogs have. Want to know what they are? Here are seven essential elements of a successful blog post.
1. Magnetic Headline
Your headline is what pulls people in. It's the first impression someone has of your blog post, and it
has
to be good. You should spend a
significant amount of time
brainstorming captivating headlines for your posts. Write down all of your ideas, read them out loud, and pick the one that you believe provides the most value to the reader. As advertising legend David Ogilvy said, "the headlines which work best are those that promise the reader a benefit."
2. Captivating Introduction
A great headline without a strong introduction is like inviting someone to your house for a party only to have nothing there for them when they arrive. It's disappointing and feels like a waste of time. Far too often, bloggers spend so much time focusing on their headlines that they forget to craft an introduction that hooks readers and leaves them wanting more. Your introduction needs to capture your reader's attention and pull them deeper into your content. Tell a story, provide value, address pain points, and tell the reader why your piece of content is worth their time.
3. Subheads That Support Your Headline
In today's digital age, content needs to be presented in small, bite-sized pieces, and it needs to be visually friendly on the page. Break up your post by using subheads for each of the points that support the title. For example, in this post I made each element of a successful blog it's own subhead, making it easy for readers to scan and read my post.
4. Eye-Catching Image
Although your content is what will get noticed by search engine crawlers, you shouldn't be writing your content for search engines. You
should
be writing for humans, and humans love images. Images help break up large blocks of text and help give your audience a chance to absorb the information in your post. Images also give readers a visual idea of what your blog post is about.
5. Closing Summary
The goal of a blog post is to take the reader on an informative ride from point A to point B. Your conclusion should never leave your reader thinking, "wait, that's it?" Provide additional value in your conclusion, and use it to summarize everything you just said in your post.
6. Logical Next Step
No blog is complete without a call-to-action (CTA). The CTA at the bottom of your post should direct readers to the next logical step. This may mean sending them to an eBook, webinar, or a free consultation. Offering a next step provides your readers with even more information about the topic at hand and helps you nurture them down your inbound marketing funnel.
7. Authentic Voice
Above all, be authentic. There are few things worse than reading a blog from someone who is trying too hard to be someone else. While it's important to use a tone of voice that will resonate with your audience, it's equally important to be yourself. Don't be afraid to let your personality and passion shine through in your writing. After all, it's the conversational posts that tend to get most links and shares on social media. Just remember to be professional, avoid slang, and be mindful of spelling and grammar.
There's no one-size-fits-all solution when it comes to how to write a blog post, and it's all about finding what works best for you and your clients. The tone in which you write, the length of your posts, and what you write about will all change depending on your client. But the elements above should always be there. By including these seven elements and ensuring that your blogs fit into your overall strategy, you'll find that your blog posts will be more a well-rounded and successful part of your inbound marketing strategy.