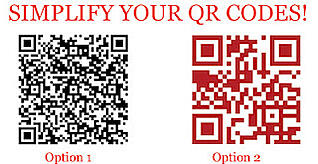 "A QR Code should ASSIST in your marketing efforts, not replace your marketing."
First off, for those of you who would like to know a definition of what a QR Code is us this link. http://goo.gl/wAv7N
Back in mid 2009 we discussed the future of QR codes, looking back most of our projections still hold true today. The use of the QR codes is up over 500% from last year alone, you can see them in most advertisements and a perfect example is going to Best Buy and looking at their TV Selection. All of the specifications are available by scanning the QR codes under each TV.
One of the biggest issues we see with QR code marketing by advertisers is they're trying to put to much data into the qr codes. QR Codes by design allow up to 30% of the image to be obscured and still will work, may designers are trying to implement logos into the qr codes but this can backfire.
Along with the 30% margin-of-error, one has to take into account that the mobile device or camera may not be focused, the camera lens may be dirty, or the QR code is far away, or too small. By limiting the amount of data you put in the QR Code the more simple the barcode will be, thus it will be more reliable.
Odds are your going to send them to a mobile friendly page or site. And the image to the right (option1/2) there's two options pointing to a page on our website:
The URL is
http://www.impulsecreativestudios.com/fort-myers-web-design
The 2 QR Codes in the Above Picture go to the same destination yet the one on the right is much simpler and can be smaller in marketing materials, thus leaving more room for traditional marketing "real estate".
Option 1
points to the URL
http://www.impulsecreativestudios.com/fort-myers-web-design?utm_source=blog&utm_medium=qrcode&utm_campaign=qrcodeblog
Option 2
points to the URL
http://goo.gl/8lLbv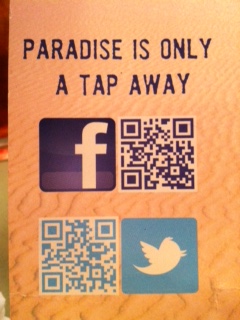 A Great Use of QR codes on Cheeseburger in Paradise's Menu Inserts
This is achieved by using a URL Shortner (such as
bit.ly
or
goo.gl
) The perks to using these services (particularly goo.gl) is that you can also track how many people are scanning your codes, after all measurement is the only way to success.
So, be careful of how you use QR Codes, You have to be careful, simply plastering one on the back of your entire card may show you're trendy and with the times, but utilizing the QR code and allowing for other information to be used in the priceless space on your business card may be more important. The QR Code should ASSIST in your marketing, not be your marketing.
Think about your customer (the one who would be scanning the code) what is the end result? Send them to a website? To visit your Facebook page? The possibilities are endless.
For Help with using QR Codes or any of your
Fort Myers Marketing
(or anywhere else) give us a call or drop us an email. FREE Advice is only a phone call away!