Super Bowl XLVII is is tomorrow and many are getting ready for the big game. Over the years, Super Bowl ads have become almost as big a spectacle as the game. Every year, companies are shelling out more and more money for funny, creative and entertaining commercials...But how effective will they be on a marketing basis? Some could argue, but I'd be willing to say that more people will be tooking to be entertained by Doritos, GoDaddy.com, Volkswagon, Budweiser. Sure Millions of people will see the commercials, but overall what is the marketing value really?
in 2013 it's estimated that a 30 second TV spot during the Super Bowl will cost upwards of 3.8 Million Dollars. Thats $3,800,000!!
2012's Super Bowl saw revolutionary traffic on Twitter during the Super Bowl, a whopping 12,233 Tweets Per Second, and this year, I'm betting we'll beat that record also. Social Media is now engrained in our culture and Mellenials have the urge to share the day with their peers, this may be in someone's living room watching the game, or even at a bar. But many individuals will be frantically tweeting & facebooking during the game to communicate with their peers.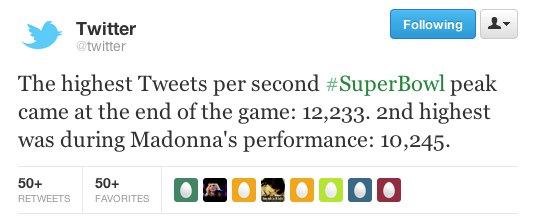 While the commercials will no doubt be entertaining, I don't believe that the effectiveness of the advertisements will ultimately drive sales for the companies advertising. Brand Awareness, Yes. But I think there are much more responsible ways to market. Imagine what a monthly marketing budget of $316,666 could do for your businesses' exposure. And instead of the 3.8 Million spent in 30 seconds, you could generate leads, measure effectiveness, and repeat what works throughout the year.
In Conclusion, the Super Bowl will have winners and losers, but ultimately I'm not sure how many advertisers will truly win more customers from their commercials. If brand awareness is a strategy that advertisers are going for they will have to find the balance of entertainment & product messaging. In my opinion the hype of the Super Bowl Commercials is Over-Rated from a marketing stand point!
photo credit: Doritos Crash the Superbowl Competition
Remington is the CEO and Inbound Marketing Strategist for Impulse Creative, An Internet Marketing Agency in Fort Myers, Florida. You can connect with him using the following social networks: Google+, Twitter, Linked In & Facebook