The WCAG 2.0 is a technical standard created by the World Wide Web Consortium (W3C), an international community that develops standards for the internet and websites. They provide the bronze, silver and gold standard (A, AA and AAA) for making sure websites don't discriminate against Americans with disabilities by not being easily usable by assistive technology for the visually and hearing impaired.
According to Title III of the Americans with Disabilities Act (ADA), businesses can't prohibit discrimination on the basis of disability in places of public accommodation. That includes the Internet.
Yeah, it probably affects your business.
Technically, this affects every business with a website. The Department of Justice, which enforces the ADA, gets more official complaints every year. Industries that have been targeted by these complaints include: hotels, restaurants, resorts, banks, retailers and commercial real estate. Aside from government-run websites, these industries need to worry the most about compliance.
Basically, if your business is subject to the same ADA compliance rules that require handicap accessibility ramps and elevators, or braille signage, you need to have a compliant website as well, with options for the visually and hearing impaired.
What If Your Site Isn't Compliant?
What happens if you get a formal complaint or sued? First off, don't ignore it. The Department of Justice is enforcing this and settlements are happening all over the country. Here's a breakdown of what's being demanded by the law firms behind these complaints and settlements:
Bring your business website up to at least the AA (middle of the ground) standards of the WACG 2.0

Designate a manager of the website and other digital assets

Designate website content development personnel for WACG 2.0, design and functionality

Create and adopt a policy to develop and maintain website accessibility

Train IT staff in the WACG 2.0 standards

Contractually require third-party software providers meet WCAG 2.0 AA Success Criteria
If you really want to see how your site stacks up to these guidelines, there is a WACG testing software tool that's being used to screen sites for compliance. And there are many companies that specialize in making sites compliant if the guidelines prove too rigorous for your current IT and web development staff.
The Nitty Gritty Of ADA Compliance
The official Web Content Accessibility Guidelines (WCAG) for compliance are pretty technical, because they're made for use by:
Web content developers

Web authoring tool developers

Web accessibility evaluation tool developers

Mobile web developers
They can be found here, along with every technical standard your developers will need to know.
Basically, there are 12 main guidelines and testable success criteria for each that classify accessibility into three levels: A, AA, AAA (good, better and best). The Department of Justice has generally accepted the AA rating as compliancy for most businesses.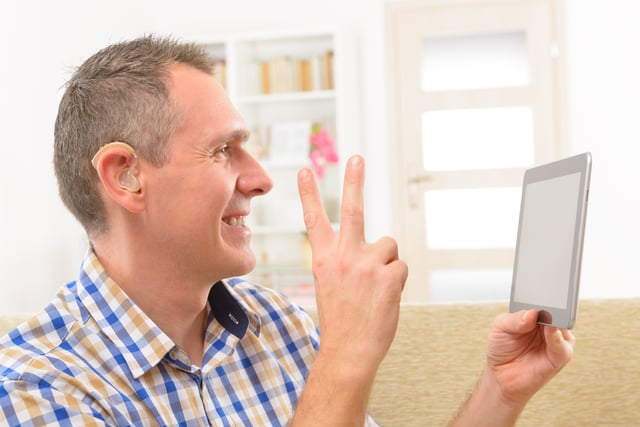 Here's a checklist of basic WCAG 2.0 requirements in simple(ish) terms:
1. Non-text content has to have an equivalent text alternative, such as a description of the image, text-only version, CAPTCHA audio alternatives or decorative graphics that can be made invisible to assistive technology
2. Time-based media such as videos must have both audio and text components
Captions provided for audio

Audio description provided for videos

Videos have audio descriptions or media alternatives

Sign language interpretation is provided for all audio

Extended audio descriptions provided for videos

Alternatives, including an audio-only alternative, are provided for all time-based media
3. Adaptable content
that can be presented in a variety of ways, and layouts, without losing information or structure
The way you convey information, relationships and structure are available in text or can be determined by accessibility programs

Your content reading sequence can be determined by accessibility programs

The instructions for understanding and using content don't rely on the way content looks or sounds, such as size or location
4. Content is distinguishable
and clearly visible
The foreground is separated from the background, making things easy to hear or see

Color isn't the only way you're communicating anything, such as solely differentiating the color of words containing links

Colors of backgrounds and foregrounds can be selected by the user

Contrast ratio of text and images is at least 4.5:1, or 7:1 for achieving the highest rating of AAA

Text can be resized up to 200 percent without losing function, content or making the user scroll horizontally

Text is available as an alternative for images of text

Text width is less than 80 characters

Text isn't justified

Line spacing is +1.5 for paragraphs and paragraph spacing is ⅕ times larger than that

Low or no background audio for audio-only content
5. Audio can be controlled separately from the main computer audio for any automatic audio that plays longer than 3 seconds
6. Keyboards, not computer mice, can access all of your content's functions
No specific timings are required for keystrokes
7. Enough time
is given for users to read and use content
Interruptions can be postponed, except for emergencies

Sessions can be continued without losing data
8. Seizure-causing content
is prohibited
Nothing flashes more than 3 times per second
9. Navigation is provided
to help users know where they are and find content
This includes location within a set of web pages, link purpose descriptions and section headings
10. Understandable information and interface operation
11. Content is readable
and easy to understand
Languages

can be easily determined by accessibility programs
Unusual words, terms or abbreviations have a tool to identify and explain them

Text doesn't have a reading ability higher than about sixth grade, or has a more readable alternative version

Check readability here

Words that are difficult to pronounce, or have multiple meanings based on pronunciation, have a tool for explaining them
12. Web pages are predictable
in appearance and operation
Navigational tools are used consistently across the site

No components change automatically

Changes of context are user-initiated and can be turned off
13. Input assistance
is provided to help users avoid and fix mistakes
Content requiring the user's input has instructions

Input errors are automatically detected and explained with suggestions

Context-sensitive help is available

Submissions are reversible, checked for errors and confirmed or corrected before finalized
14. Content is robust enough for assistive technology to create a reliable interpretation
15. Content coding has maximum compatibility with assistive technology
Coding is efficient and follows best standards without unnecessary duplicates or duplicate IDs

Coding language contains alt tags in order for assistive technologies to read it

Development structure of site follows best practices

Through consistent following of best programming practices, assistive devices and tools can determine name and role of content components including form elements, links, pop-up windows, etc.

Browsers are notified of changes in order to modify the page
Basically, Be Prepared
Sooner or later, this is going to affect you. Getting compliant may be a cost you were unprepared for, but the price is probably less than a class action lawsuit. And that's already a very real consequence.

Get your web staff familiar with these guidelines and keep on top of changes. You, and all of your customers with disabilities, will be thankful that you did. Click the button below to view or print our Basic WCAG 2.0 Requirements in Simple(ish) Terms.