Be the first to get awesome articles like this
without clogging up your inbox.
Last week was a dream come true for inbound marketers worldwide. Yes, I said worldwide. With over 21,000+ attendees from countries all over the world, HubSpot threw the coolest, most valuable marketing conference I have ever experienced in my life.
For those of you wondering what the heck INBOUND 17 is, let me explain. This week-long conference, hosted by HubSpot, features 300+ educational breakout classes, top speakers including Michelle Obama, Andy Cohen, John Cena, unusual entertainment, and the best of all– happy hours!
After four days of INBOUND 17, I was a changed person: spiritually, emotionally and cognitively. Here are just a few lessons I learned at the best online marketing conference in the world: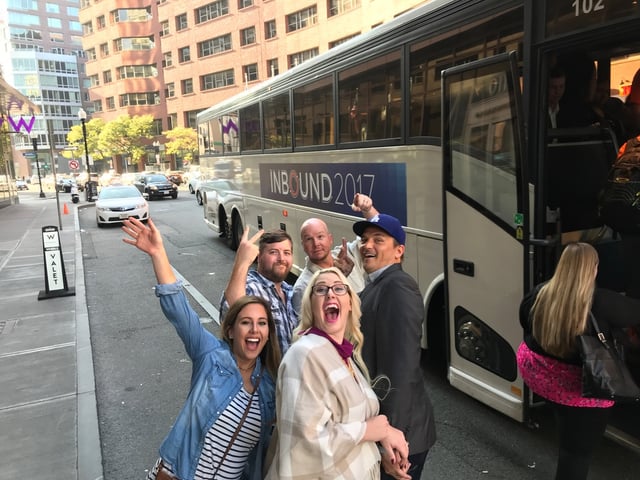 1. Marketing Investments Don't Have to Be Measurable
Yep, you read that right. Out of the 300+ educational classes offered during INBOUND 17, I heard this phrase come out of the mouth of Rand Fishkin, CoFounder of Moz. I was taken back that one of the biggest Marketing Analytics Software Companies around just told us that not every investment has to be measureable.
It makes sense though. Look at it this way, here's just a few channels that are super hard to measure but can be extremely profitable for your business:
Word of Mouth

SEO

Organic Social Media

Content Marketing

Public Relations
Let's stop writing off marketing tactics that aren't easily measured and start focusing more on what they can actually do for our business.
2. People are Hard to Hate Up Close
This year's INBOUND theme was Empathy. What a great subject to learn about and bring back to your work culture, right? These speakers didn't just bore our attention for an hour or two, they inspired us to do GREAT things.
One of my favorite takeaways was from Brene Brown. Brene gave an extraordinary talk on compassion and empathy. One quote that really stood out to me was:
"People are hard to hate close up. Move in. It's so easy to hate and ignore people from far away. But, when we aim to make one-to-one connections, it humanizes us."
How powerful is that?
When it comes to humanizing into your inbound marketing strategy, brands everywhere are zoning in. With the implementation of Chatbots such as Facebook messaging and direct messaging on Twitter, humanizing your brand becomes a more important aspect of our everyday tactics as marketers.
3. Don't Fake it till You Make it
Be your authentic self, always. This was a common theme throughout the conference, but probably one of the most important lessons I learned. If you aren't being genuine, it's really difficult to do anything successfully. Whether you're a marketer, a brand, or the owner of a company, you've got to listen to your authentic voice and let your work speak for what you believe in.
4. Always Choose Quality Over Quantity
Dharmesh Shah, Founder and CTO of HubSpot explained that marketers should be choosing quality content over the quantity of their content. As an inbound marketer, growing your blog can be exhausting. Darmesh reminded me that our mission is not as much about producing a lot of content, as it is about producing relevant, quality content. Content that not only keeps your audience engaged, but also solves their problem(s).
I could honestly write a book on all of the invaluable information I absorbed at Inbound17, but for now I'm busy putting what I learned into action. Our clients at Impulse are in for a ride this quarter!