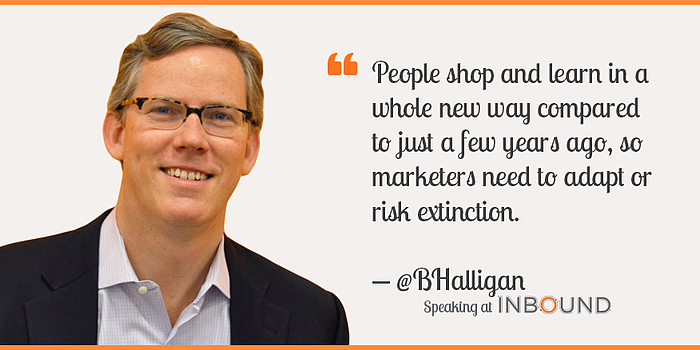 Impulse Creative and HUGSWFL have joined forces to bring HubSpot's co-founder and CEO to the Naples area.
He's use to speaking in front of over a thousand people, but tomorrow you'll have the opportunity to be one of just a handful of people to take part in a fireside chat with HubSpot's CEO, Brian Halligan.
"Halligan and Shah (HubSpot co-founders) are on the frontline of discovering and systemizing marketing methods that will be the standard soon enough. Jump the line and learn about inbound marketing today." - Chris Brogan, author of The Freaks Shall Inherit the Earth
This special event takes place Tuesday, March 3rd at The Naples Conference Center. Best of all, the event is completely free and Hors d' oeuvres will be served! Space is limited, so RSVP today.
Who Is Brian Halligan?
Along with Dharmesh Shah, Halligan created a company that put the marketing world on its head. Literally. They created a customer-centric approach to marketing, different from the world of broadcast marketing that focuses on the what, not the why.
Prior to HubSpot, Brian was a venture partner at Longworth Ventures and a VP of sales at Groove Networks, which was later acquired by Microsoft. He has authored two books, Marketing Lessons from the Grateful Dead and Inbound Marketing: Get Found Using Google, Social Media, and Blogs which he co-wrote with Dharmesh Shah.
Halligan was named Ernst and Young's Entrepreneur of the Year in 2011 and one of Glassdoor's 25 Highest Rated CEOs in 2014. In his spare time, he follows his beloved Red Sox, goes to the gym, and teaches a class at MIT Sloan with Paul English.
The Fireside Chat
This will be your opportunity to ask Halligan questions about marketing, building a business, taking it public, company culture, whether he's a dog or cat person—anything you'd like! This is a truly unique event that gives you access to a top marketing CEO.
Here is a schedule of activities for the event:
6:00 - 6:30: Networking & Hors d' oeuvres
6:30 - 6:45: HUGSWFL Open
6:45 - 7:45: Fireside Chat with Brian Halligan
7:45 - 8:00: Closing Remarks
Bring your managers, bring your sales and marketing teams, bring your entire team—you don't want to miss this opportunity. Admission is free, but space is limited.
The Brian Halligan fireside chat takes place at:
The Naples Conference Center
(Located at the Naples Area Board of REALTORS®)
1455 Pine Ridge Road
Naples, FL 34109
Interested in attending? Please click here to RSVP and save your spot to listen to HubSpot's CEO speak.