My first time in Boston with HubSpot was actually in 2011, the year before INBOUND kicked off. It was the Inbound Marketing Summit and HubSpot User Group Summit. Instead of 30,000 people at the BCEC, it was around 3,000 people (maybe!) at the Boston Sheraton. Seriously.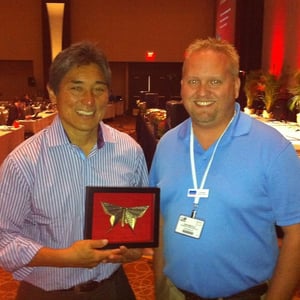 It was such an intimate event, I got to meet Guy Kawasaki right after his presentation for a photo, run into Chris Brogan, and cross paths with Brian Halligan, Dharmesh Shah, David Meerman Scott and others regularly.
Since then, I've only missed one INBOUND (2018). I've been on a boat in the harbor with Kevin Barber, I've had a midnight meal in Chinatown with Dan Zarella and Hansen Hunt (fresh eel!), coffee with Al Getler, had dinner with HubSpot executives, was in the press room pre-IPO with international reporters, was interviewed by David Meerman Scott in front of 20,000 attendees... I've had a hell of a great time at INBOUND.
I've also been exhausted, been hungry, missed sessions, and had a dead phone.
So now I'm sharing my experience and advice, along with a few other Impulse Creative conference veterans to help you have an amazing INBOUND experience.
George B Thomas:
Wear comfortable shoes and layers. You may be walking in the early morning and late evening, and the climate inside the venue can be unpredictable.
Bring portable chargers so you're not held hostage by an outlet in the hallway while that person you've been wanting to meet all week walks by...
Stop long enough to have fun. Go see the house of Paul Revere and make sure you visit Yankee Lobster Company.
Courtney Albee:
Bring snacks

Bring a jacket/sweatshirt

Wear comfy shoes

Make sure your laptop is charged prior to sessions if you plan on taking notes (they don't allow you to charge your laptop in sessions)
Ryan VanDenabeele:
Pack comfortable shoes - you'll have lots of walking.
Make the trip to Chinatown for dumplings!
Try to take in a Red Sox game while you're in town - Fenway Park is epic.
Audrey DeMartinis:
Bring a blanket

Bring granola bars the breakfast lines everywhere are crazy

Stop and fuel at wine stations

Merchandise on the last day at the HubSpot store is usually 50% off
Russell Benzing:
Bring cash, bartenders (at happy hour and open bar events) serve you quicker with Andrew Jackson in your hands.
Jackie Pfriender:
Go to the happy hours Russell mentions above (and the parties) - networking is half the point!
Jenn Villa:
If you couldn't get into a session, check the day of for new openings. That's how I got my butt in Rand Fishkin's session even though it immediately booked out when people chose the sessions.
Pack snacks. Sometimes your session is far from the food court, and just like racing for a connecting flight, you might miss your next session if you stop for a bite.
Bringing a refillable bottle to get cold water at foundations and stay hydrated. If you're flying, make sure it's empty before you go through TSA!
Bring a physical notebook and pen. It won't die on you if you can't find a charger.

(Plus, research shows that writing notes is better for your brain than typing!)
Talk to strangers!! It can be easy to rush from session to session without interacting with others in the sea, but making small talk is the best way to network.
Leave blocks of time in your calendar for some networking. This lets you either have some time to breathe or be able to go deep into conversation (and even beer/wine) with someone to gain knowledge and increase your network. Bonus: Set up a calendar link specifically for INBOUND you can share with people!
Dan Moyle:
Dan Moyle with Dharmesh Shah and Brian Halligan in 2011

I've been to Boston a few times. Since the Inbound Marketing Summit and HubSpot User Group Summit in 2011, I've been every year except one. I've learned a few things over the years. Here's my list if tips to survive any INBOUND.

Bring pen and paper - Old school notes mean no charging, and writing is proven to be better for memory than typing (read the proof here).
Be patient and kind - Some people get real uptight about missing sessions and be real a-holes. It's better to be good to each other and it keeps your blood pressure down. Plus, some sessions get recorded, they may have an encore (one year my presentation got 2 encores), or the speaker may have the information somewhere else for you to get it.
Eat - Whether it's grabbing a granola bar from one of the many folks walking around with platters or packing your own snacks, be sure to eat. It's hard to concentrate on an empty stomach, and sometimes food lines are way too long.
Food trucks are fun, but there are other food solutions. In the BCEC your lunch tickets work at other food counters, and the food is just as good.
The magic happens in the hallways - Do you know how many people I've run into in the hallways and had mind-blowing conversations with? Sometimes they're random other times it might be someone like Mitch Joel, Jay Baer, or others you see on the stage.
Use the app to connect - I've made lifelong friends with strangers through the app - Kevin Barber and I had lunch on a whim. I've also used the app to connect with people near my hometown who I didn't realize even used HubSpot. Be social!
Be open to possibilities - But be smart on safety, but be open to serendipitous interactions. I've had lunches, dinners, and drinks with people through the app or that I'm in a conversation with. But be safe and stay in touch with others so someone knows where you are.
Don't be afraid to approach people - Speakers are just other humans who happened to be on stage. I've followed Krista Kotrla's career over the years, and have respected and admired her work. She and I connected and she told me that after my first time speaking at INBOUND, she didn't approach me and regretted it. She was nervous to meet me. I admired her journey and saw her as much further ahead than me and didn't think she'd be interested in connecting. Our mutual respect and admiration that had morphed into impostor syndrome almost sidelined our friendship before it could start!
Take time for yourself - A morning walk, an evening unplug, a call home... be sure to take a breath from the chaos, even if you're an extreme extrovert like me!
Twitter lists - This is huge for before, during, and after the event. Connect with other attendees, with speakers, with HubSpot employees by building Twitter lists and interacting. It's a good way to stay organized.
Don't be afraid to ask - Whether it's meeting new people, asking for a photo, asking a question after a session, or any other question - we're all here to learn and connect. Ask!
Go to Modern Bakery for your cannoli. Period.
Try to get a room close to the venue - It's not always easy, and it's not always cheap, but it can save you time!
Make sure you have a room for all the nights you're there! One year my friend Tom miscalculated and didn't have a room the last night. He bunked with me, and slept in the chair in my room. Another year I didn't have a room for the last night, and thought I could maybe find a room like Tom did, or stay with a friend... I struck out and had to get a room for the regular Boston rate of almost $400 for the night.
Plan for traffic - When you leave (most likely on Friday) you'll want a couple hours for travel and airport time. Even though it's only a couple miles from Logan, the BCEC is a world away with the roads and traffic.
Download and set up Uber or Lyft ahead of time - When you want a ride, go away from the BCEC a ways and then order your ride. Avoid the long lines at the venue.
Find a buddy - If you can find someone in your network who's been to an INBOUND before, ask them questions and run your agenda by them. Put previous experience to good use!
Do your research - Which you already are! But make sure you're searching, asking, reading, and watching. Research also includes following the social hashtags - there's a huge community in the #INBOUND19 hashtag on Twitter!
Go to INBOUND Rocks - Even if you're not sure who the entertainment is or if they're for you. The year Cyndi Lauper performed, I wasn't sure I'd like it. I was wrong. The year Janelle Monae performed, I thought I was too old for her music. I was wrong. The year One Republic performed I was blown away. I wasn't sure about Amy Schumer... a comedian? Really? I was wrong... you get the picture. The INBOUND Rocks event is a ton of fun and you'll be glad you went.
Try something new. I'd have never tried real New England raw oysters if it wasn't for Rob Ciampa. I'd have never had eel so fresh it was alive 10 minutes before we ate it if it wasn't for Dan Zarella. Lobster rolls, black bean snails, real cannolis... live a little while you're getting inspired and educated!