Even the smallest mom and pop business deserves good branding. This is especially important for restaurants.
Marketing collateral like product brochures and coupon mailers, or digital assets like a website and social media presence, are just a few of the many ways in which your brand makes contact with the public. Regardless of the medium, successful branding is marked by a consistent tone of voice and distinct visual style. And it is these factors that help define your company and keep you front-of-mind with customers.
For restaurateurs, branding extends beyond the front of house through to the back. Menu design, signage, even how your wait staff is dressed, all play a role in turning the casual diner into regular patrons. Central to all of this is your restaurant's logo.
A good logo is recognizable, relatable and memorable. Your logo must stand out from the competition, but be familiar enough that it feels right for your area of expertise. What's more, unique design has the ability to influence a customer's emotional connection with your brand.
Fortunately for restaurant owners, hospitality is a sector where brands can have a bit more fun. Logo designs can be a bit more abstract or direct, depending on the flavor you're looking for. Are your running an upscale sushi bar? Maybe an abstract representation of a fish is appropriate. Is your restaurant bestowed with the family name? Maybe a hand-drawn piece of typography will make the right impression.
Whatever the route, there really aren't any wrong answers. Let your branding be as creative as your menu.
Today's special includes the following logos used by small, independent restaurants. These are some of our favorites and each is successful in their own unique way. Pak Pao
Pak Pao in Dallas, Texas, offers traditional Thai food in a modern, fast casual experience. The logo and supporting collateral complement this balance by paying homage to traditional Thai typography and color palettes. The monoweight of the lines and the elephant icon lend a nice modern edge.
The Rock Sports Bar & Grill
Independently owned and operated in Boone, North Carolina, The Rock Sports Bar & Grill serves up classic American fare paired with sports of all sorts. Their logo exploits these fact through it's bold font and angular positioning. The badge shape is reminiscent of your favorite sports team, and the banner element serves to further strengthen the championship motif. Anchorage
With a menu that features fresh seafood, and a location with views of Port Philip and the city of Melbourne, Anchorage, this restaurant recently underwent a logo redesign. The update prominently features the letter A crafted from "rope" placed atop the full restaurant name.
The name itself also benefits from the nautical theme as the typography resembles the industrial stencilling typically reserved for the side of buoys or boats. Each element of the full logo plays well with the next, yet like any good identity system, the pieces can be split apart and used in different ways to strengthen the brand.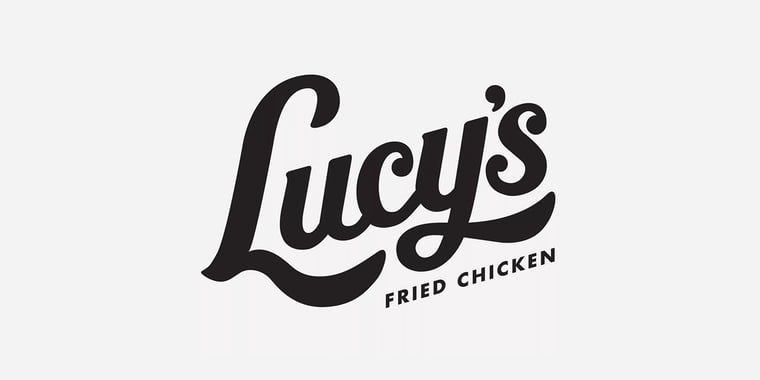 Lucy's
Lucy's is a little fried chicken startup based in one of the hippest parts of Austin, Texas. The name Lucy is that of the owner's grandmother who taught him how to make fried chicken. When using a family name for your restaurant, consider a hand done script as seen here. A simple piece of custom typography or lettering makes a bold statement, screams authenticity and makes selling merchandise a cinch.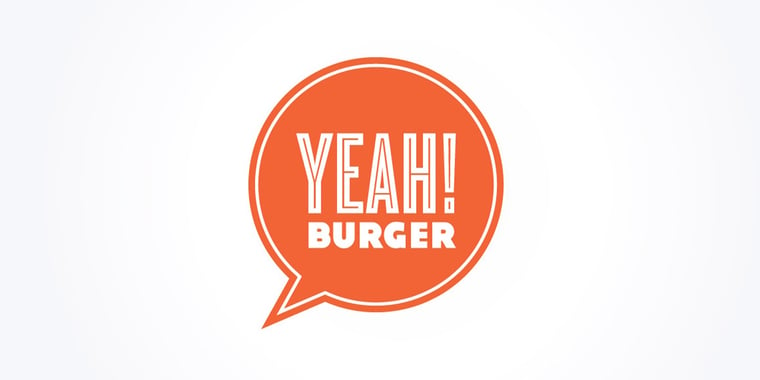 YEAH! Burger
Designed by Tad Carpenter, the YEAH! Burger logo is bold and in your face. Kind of like a juicy hamburger. The optimism of the brand shines through the addition of an exclamation point right in the logo. To bring it all home the orange type, stacked tall like a burger, is a bright, inviting orange color; a mix of ketchup and mustard perhaps?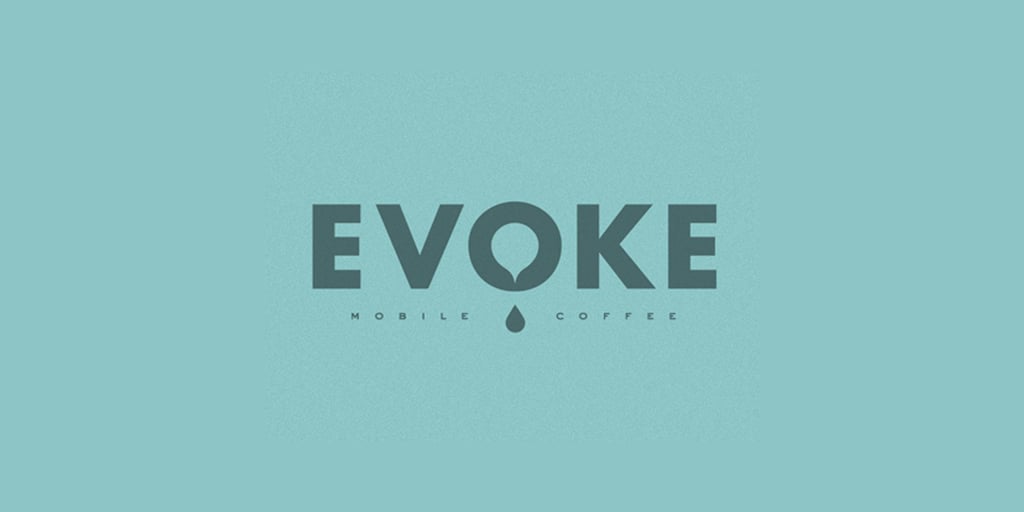 Evoke Coffee
The Evoke Coffee logo is what's known as a wordmark: a text-only typographic treatment of the name of a company. The logo's charm comes from the use of negative space in the middle of the "o" which features a super simple tweak to suggest something else. What some may discern as the soft pour of fresh espresso is perfectly balanced by a backdrop of bold typography.
Consumers often have an easier time establishing a connection with brands whose logos feature a cleverly understated aesthetic.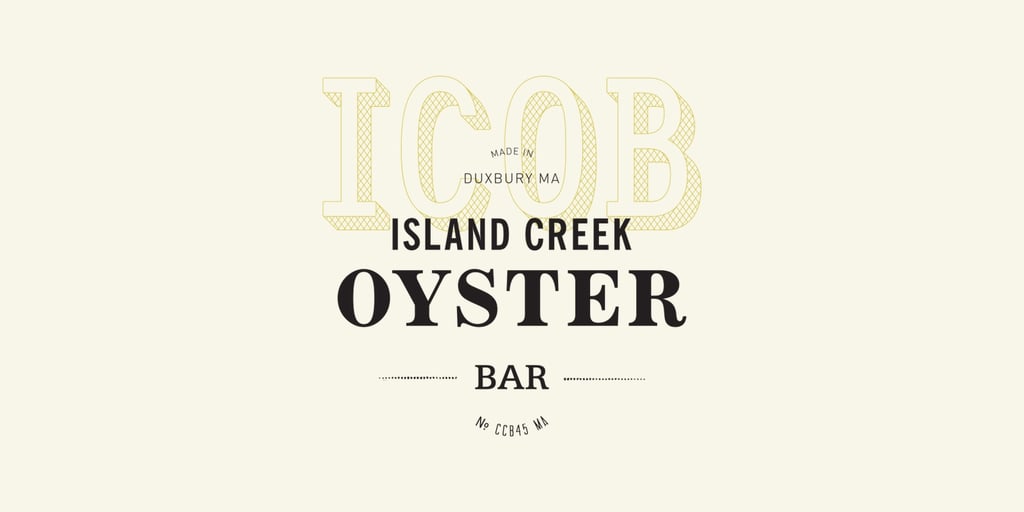 Island Creek Oyster Bar
What I love about the Island Creek Oyster Bar's logo is that it's like a 2-for-1 special.
The layering of different fonts creates an intriguing composition that reflects the complex flavor layers of an oyster. While that description may be a stretch, this logo is no doubt an aphrodisiac for the eyes. In some applications of the logo, Island Creek chooses to simply use the ICOD acronym.
When designing a logo, think about if and how it will look when taken apart. Creating something you can use in unique and interesting ways will give your logo more opportunities to represent your brand.
Tonight's Special: Your Logo
Designing the perfect logo is tough. There is no right way to do it. But that doesn't mean you can't have fun along the way; especially if you're a restaurant owner. Eating out is an escape for most of us. An opportunity to leave the household chores behind and enjoy a little culinary adventure away from home. The ambiance, the food, the drink and the service all influence the customer experience. The logo is what reminds your customers of that experience every time they see it. Your business deserves a logo that does more than just looks good. You need a logo with taste.