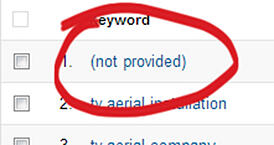 Some major wakes have been made in the past couple weeks due to recent Google updates. One of those has a major effect on business owners and marketers. Over the past couple years we have all noticed the increase in the dreaded "not provided" keywords, while on average it affected only a small percentage of visits to a website.
What is (Not Provided)?
(Not provided) is what we consider the poster boy for the decline of real keyword data. In 2011, Google began to restrict the keyword data they sent to websites so that visits coming from secure Google search pages would appear in Google Analytics under the label (not provided), instead of the actual search term. Fast forward to late September 2013: Google drastically increases the footprint of (not provided) by encrypting all searches by default.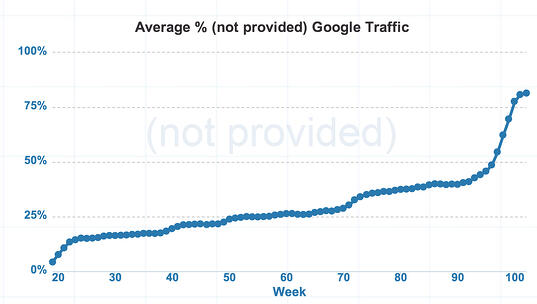 While many traditional SEO firms, less experienced internet marketers, and do-it-yourselfers may be pulling their hair out... THERE IS HOPE. There's not only hope, but a HUGE opportunity to shine. There's no doubt in my mind that this is one of Google's ways of combatting web spam. For years, Matt Cutts and the webspam team at Google have been telling us to stop designing websites for Google, and start designing for people. It's a repeated statement he makes through many of his Webmaster videos "If you create sites and pages for consumers, and they like it, we (Google) will too."
So Why is it going to be OK?
As mentioned above, the opportunity comes from marketers, and business owners who are focused on creating content for their target markets or buyer personas. They will not see much of a change (except for their analytics). I wrote a recent article on Hubspot's Blog and #4 stated "Finish with SEO, don't start with it". If we create content around what our buyers are asking, then we will only need to tweak things based on other traffic signals including pages popularity, rank, and conversion rates. I'll explain more below.
1. We get to focus on the ROI that actually matters...
ROI (Return On Investment) for many SEO firms has been a "you pay me and I'll put you on the first page" mentality. Now, that the referring keyword data that drives traffic to your website, you will need to start paying attention to ROI that really matters. What are you doing to gain, close, and keep business? What paths are your prospects taking in order to become clients? This may include looking at certain pages on your website, or even downloading content prior to a purchase. Now that the "cloud" of keyword traffic is gone, businesses will be able to see the ROI that should really matter.
2. We get to stop obsessing about "keywords" and start focusing on optimizing pages for personas.
In a post (not provided) world, obsessing over keyword data had been a bad habit. In some cases we acted like a handful of keywords were the ONLY way someone was going to come to our website. Now, Google's forcing us to focus on the buyer. By taking away the "distraction" of keyword data, they're making us actually think about the content we're publishing (and who it's for) first, and then asking us to tweak and balance from there.
3. Competition get's harder.
The race for website traffic is no longer a long flat stretch, we're "running up-hill now". The individuals/companies that were just looking solely at Google's keyword data will start to lose their traction/ranking as Google continues to tweak it's algorithms. Those that will come out on top and win the race are the ones that are creating remarkable, helpful content that has value and begs to be shared.
4. Amazing Tools to gather 'new' data.
There are a variety of tools for you to optimize your website. Search for tools that allow you to pay attention to your page rank, looking to make sure that best practices are used on a page-by-page basis on your website. One of our favorite tools is Hubspot, not only does Hubspot have an amazing blog, landing page, and new COS platform, the analytics are second-to-none. With Hubspot you can track your individual pages keyword ranking, and see the trends of each of your pages and it's rank. You can also see the traffic on each of those pages that are garnering the ranking to determine how you are doing for particular keywords.
5. Remember Bing & Yahoo
Sure, Google has held a huge market share of search traffic, and it's algorithms and sheer size are why we pay attention to Google as a primary source of traffic. But Remember, Bing & Yahoo still garner about 33% of search volume. That means that you will be able to see keyword data from these search engines. and while it will be substantially less, it will still allow you to see signals for how your website is performing for certain keywords. This will be especially true if you continue to create pages, and content for your prospects and clients.
Here's some further reading on the (not provided) topic:
What this Means for Impulse Creative Customers
Overall, in our opinion, there will be minimal change. As marketers first and web designers second, we've always focused on the buyer persona's experience. Since we focus on what they're asking, and position our clients to establish themselves as the experts in their industry, we don't see a major change in results. What we will see is a decline in "keyword related traffic" on analytics, but we will shift the attention to "top performing pages" and optimize from there! If you've got a question about how your website is behaving, feel free to schedule a Free 30 Minute Marketing Evaluation!