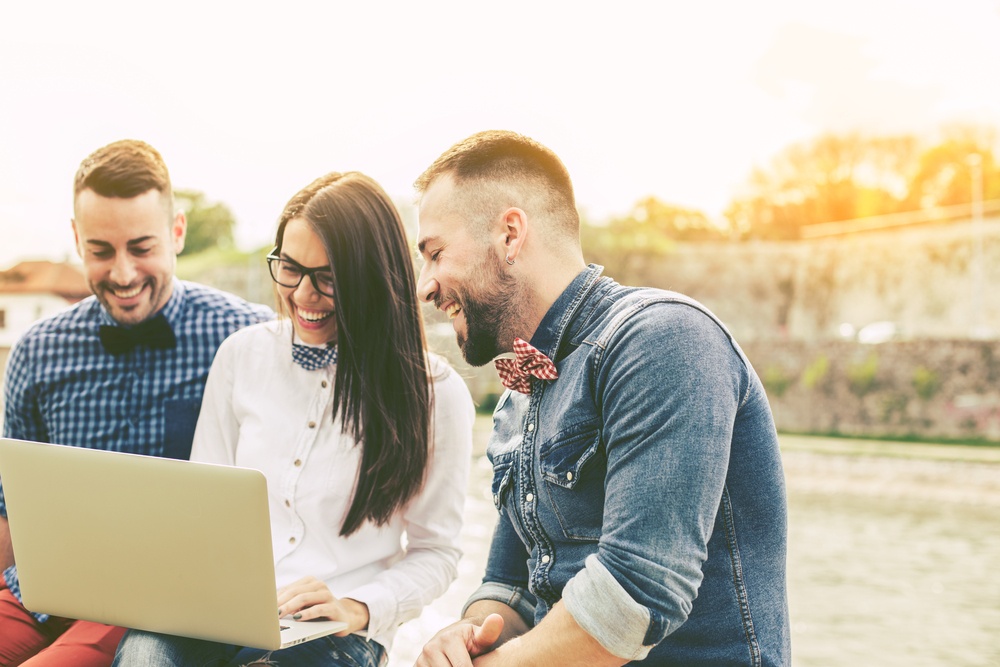 Millennials, those young adults born between the early 1980s and the year 2000, are a group you definitely need to be paying attention to. They total around 80 million individuals right now and are on the brink of a massive generational transfer of personal wealth, coming from inheritance, investments, and excelling in their careers. That's something you don't want your business missing out on. As one of the largest generations in history, millennials are vital to the United States economy and equipped with exceptional buying power, spending $1.3 trillion annually. As their incomes and investable assets grow, this powerful generation will command significant changes within all industries- even yours. What can you do to win this important consumer group to your business, and keep them as evangelists for years to come?
Create and Maintain a Digital Presence.
These young adults have grown up around computers and the internet, and their tech-savvy ways bleed into every aspect of their lifestyle. While you may be the best small business in your industry, without a solid website you'll fly under their radar. Their ability to find information about you and your products is crucial to pulling in the millennial segment. Whatever your product or service, put it on your website, give them plenty of information about it, and let them order online!
But a website is not enough. Your brand needs to be actively blogging and interacting via social media platforms as well. Don't forget about mobile! You can even work with a developer and build your company a downloadable app. Members of the millennial generation are used to snapping pics of their meal before they eat it, checking online reviews before a purchase, and using hashtags even when they aren't tweeting. Your brand must adapt to this new communication style by speaking in a language millennials can understand — social media.
Segment By Social Circle.
Instead of focusing on life stages, target millennials based on social groups. Millennials are the most non-traditional generation so far, and they don't value traditional life-stage advertising the way previous generations did. Don't target your marketing efforts to "mothers". They view life differently than past generations, so not all millennial moms are looking for the same products. Target it to those that are concerned with their health or those that love video games. Millennials are much more likely to have a strong attachment to these social identities than they are to identify strongly with a specific stage of life.
Offer Rewards for Repeat Business.
Most millennials are brand loyal, but they are also the generation most hit by the recent recession. This makes them the perfect candidates to be enrolled in a reward program. Starbucks, a brand synonymous with this generation, offers benefits such as free music and app downloads for participating in the rewards program. The catch? To be a part of the My Starbucks Rewards program, all purchases must be accounted for on the Starbucks app.
Starbucks registers are equipped to read the barcodes on phone screens, so customers can pay directly through their smartphones without ever taking out their wallet. Your reward program doesn't have to be quite so technologically advanced though; it can be a simple card to get the 12th purchase free.
Establish a Community.
"Community" has a variety of meanings as well, and their physical neighborhood is not likely the first thing they think of. In the digital age, every interaction seems to be taking place online, and face-to-face interactions between millennials are becoming less common. But that doesn't mean you can't make your brand feel with a community. Start a Facebook group, run an interactive blog, even set up some comfy chairs at your storefront so they can hang out. Millennials like to feel like they're part of a group, so help establish brand loyalty through them wanting to remain part of the club.
Accounting for a large amount of the American population and with trillions to spend, companies are starting to take notice of the millennials. But marketing to this segment doesn't have to be hard, even if you aren't a millennial yourself. By creating a reputable online presence, targeting social groups instead of life stages, offering rewards for loyalty, and creating a community feeling, you'll definitely make waves in this demographic. Following the inbound methodology is helpful through this entire process, so if you aren't already well-versed in inbound marketing, download our free eBook to get started.