In case you missed it, last week I shared everything I learned about INBOUND 17. You can read all about it here: Don't Fake it Till You Make It.. and Other Lessons Learned at Inbound17
Today, I want to dig a little deeper and tell you guys about my personal experience.
When Remington first mentioned INBOUND 17 to the team, I thought to myself "Hmmm...what's INBOUND all about and is it really worth 5 days away from my family?" I'm such a hermit and hate leaving my baby that I totally freaked at the thought of Boston, again. (I had just been to Boston for a HubSpot training over the summer.)
I quickly googled "INBOUND 17" and was intrigued at what I saw. This wasn't just a marketing conference, this was like a marketing conference on steroids with whip cream and cherries on top. On the homepage read the words: Get inspired by top speakers, who in the past have included Seth Godin, Anna Kendrick, Arianna Huffington and Ta-Nehisi Coates. Walk away with tools to do your job better and inspiration to do great things.
Ok, you've got my attention now!
My mind was blown on the very first day of the conference. When we walked into the Boston Convention and Exhibition Center, we walked into a different world. The center was lit up in different shades of purples and pinks. There was a "Chill Zone" consisting of hammocks and dim lights, there were big marketing brand names scattered across the floor ready to give free demos, there was food trucks, there was wine, there was a photo booth. I was honestly amazed at the scene.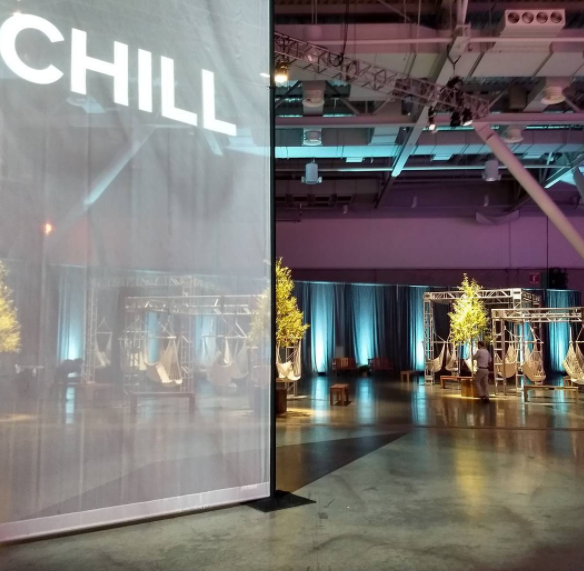 Day 1
Like I mentioned in my post earlier last week, Brene Brown grabbed the bull by its horns during her speech about compassion and empathy. We laughed, we danced, we sang, and it was incredible. By the time her speech was finished a few of us joined up for happy hour in the main concierge and enjoyed refreshments while we scoped out the venue. I loved the FREE headshots from The Danger Booth.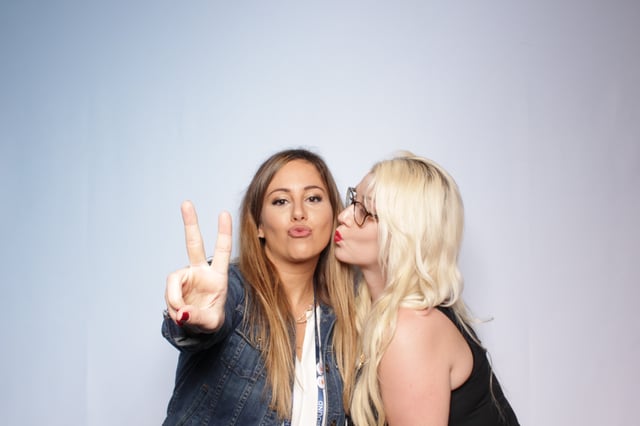 After our initial meeting the team headed downtown for a great dinner at Legal Seafoods. Being a remote employee, my face to face interactions are limited. It was nice getting to see everyone's personalities come out and play.
Day 2
Day two came so fast I had no idea what was in store for me on my first full day of INBOUND. I had 6 classes scheduled and was uber excited to see Mari Smith, my favorite Facebook expert. Mari gave an incredible talk about the importance of Facebook Advertising and shared a few tricks of the trade.
By lunchtime I was starving and only had 30 minutes to spare. So I ran as fast as I could through the crowd of 20,000+ people to get a meal from one of the 20+ food truck options. Let me just tell you, Boston doesn't skimp on their ingredients. Every meal bursted with flavor.
After a full day of learning it was time to head back to the hotel and meet up with the team. We all decided to visit Fenway Park to see a Red Sox game. (Which I was actually hesitant about because I'm not really a sports girl unless it's Gator Football). I loved it! We ordered the cliche "hotdog" and fries and enjoyed a game of ball, all while getting to know each other a little better. Like I said, I work remote, so the team only see's me about 30 minutes a day sometimes.
FUN FACT: Danielle sleeps with a pillow on her head and Audrey really likes to cuddle.
Day 3
On Wednesday, I started my day off by listening to Phil Nottingham of Wistia talk about "Making it Rain with Facebook Video." The class was a great and he let us in on a little insight:
If you want to get more website traffic, do text, links and images, promote blog articles, and keep your Facebook content diverse. It's not all about video, it's about using mixed media.
Amen to that Phil! After a few other breakout sessions it was time to watch the famous Bravo host, Andy Cohen take the Inbound Stage. Andy was amazing and had the entire audience hunched over from laughing so hard. I was also highly impressed by the wonderful keynotes given by CEO founders, Brian Halligan and Darmesh Shah. These guys really care about their product and that made me feel good knowing that as a platinum partner of HubSpot, our team at Impulse is in good hands.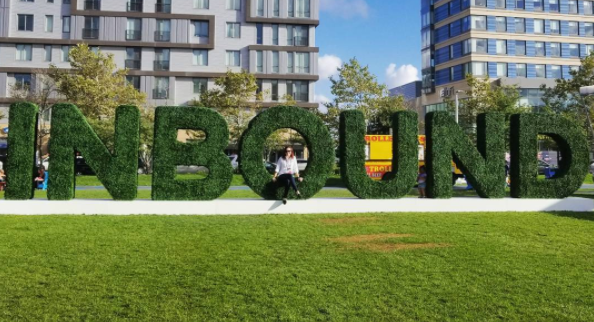 After classes we all gathered up to record our takeaways and some of the team stayed for Comedy Night. Unfortunately for me, I caught a bug on day 3 so I turned in early and hit up the closest Panera for chicken noodle soup. FUN FACT: Panera of Boston has locks on their bathroom doors and you have to use a code on your receipt to get it. *Insert upside down face emoji*
Last Day
INBOUND was finally coming to an end, and we were all a bit sad. Some of the closing speakers on this day included Dr. Ed Catmul, Co-founder of Pixar and WWE wrestler and entrepreneur, John Cena.
During our lunch break a few of us met down at the food trucks and I had the most amazing grilled cheese and tomato soup. We also got to have a little fun in the area swinging on futuristic swings and playing in INBOUND tree shrubs. As we were making our way back inside we ran into Brian Halligan and stole this group shot. What an honor to meet him!
As our last activity, the team rode over to HubSpot headquarters for a tour. Jon, our account manager showed us the overly stocked dining area, study pods and the famous HubSpot Atrium.
I'm Ready for INBOUND 18
Although it's a year away, I am looking forward to INBOUND 18. I hope Rachel and Remington are ready to bring the whole team again, but if not, I'm totally calling dibs here. (Hehehe!)