Video marketing is an absolute must when you're competing online for prospects, leads and clients. And although every real estate agent needs it, few are consistently doing it well.
With more approaches, technology and vendors every day, it's easy to get overwhelmed or not know where to begin. There just isn't an easy, one-size-fits-all remedy.
Like all good inbound marketing content, start by really understanding your buyer personas, then consistently share valuable information that solves problems and provides value for them throughout each stage of their buyer's journey.
Whether you're just getting started with video marketing or looking to maximize the impact of your efforts, these best practices from the Impulse Creative pros can help:
Make Videos that Align with the Buyer's Journey
Every part of your marketing should be designed to drive the buyer's journey, the process each customer goes through to find a solution to their problem through the purchase of a product or service. Video marketing is no exception.
Each stage of the buyer's journey serves a different purpose, targeting a specific audience. Get more familiar with video marketing for the buyer's journey here and explore the best video marketing for each stage:
Awareness
The awareness stage is all about attracting buyers and real estate agents know how to capture attention well. Just check out this guy.
Reap the benefits of video marketing by capturing your best antics, sexiest properties and fun culture on film. Essentially, stand out enough to be found or remembered when your buyers first begin their Google searches, before they're even sure of what they need.
Take command of your subject and come across as an expert (or just be seriously entertaining) in a quick, to-the-point video that's no longer than about 90 seconds. End on a call-to-action that directs interested viewers to a gated offer where they can convert into a lead.
Consideration
Now that your viewers know what they're looking for, show them you're the best option for providing that service. These videos can be a bit longer, more detailed and less focused on fun antics. Your potential clients want to be sold on you, not necessarily your services yet.
Imagine your prospect has decided that they want to move to Fort Myers. Your job is now to show them why they need a realtor, specifically you. Create two to 10 minute videos with content such as satisfied client testimonials, repurposed content related to purchasing real estate, local homebuyer tips and advice, neighborhood tours, etc.
The key in this stage is to explain, arming you lead with even more information to get them closer to making a decision.
Decision
Finally, provide the best possible solution with videos that show leads exactly what they need to confidently make a purchase. Video marketing in this stage can get very specific, including detailed home walkthroughs, listing videos, and virtual open houses/showings shown one-on-one or to a live group.
Don't Skimp on Quality
Once you've got a solid direction, don't showcase your best listings with poor quality video. You don't necessarily need to film them in high definition with professional equipment, but you don't want viewers tuning out because your low resolution, fuzzy video is hard to watch.
Use these best practices for good quality marketing videos:
Lighting
Great lighting can make you and your properties inviting and attractive while bad lighting tends to have the opposite effect. Unfortunately, due to the nature of the real estate business, you won't be able to rely on consistently great lighting. The weather and your different shooting locations will both affect the lighting and in turn, the quality of your video. Keep your marketing videos as consistent as possible by investing in some low cost portable lighting or reflectors.
Stability
The type of tripod you can use to stabilize your video will depend on the camera. Compact tabletop tripods are cheap and available for lots of camera options. Be sure the tripod you use is compatible with tablets and iphones (if you're using them), or purchase a mount separately. Don't forget to think beyond the first few videos you have planned and consider whether you'll be panning, zooming or walking around while filming.
Audio
Nothing separates the good marketing from the bad ones quite like audio does. Make sure you're understood and getting your message across clearly, no matter where you're filming. A low cost clip-on microphone (or lavalier) is usually all it takes to keep your sound consistently great. Place clip-on microphone six inches below the chin of the speaker.
One particular audio hazard for real estate marketing videos is the unwanted echoing that happens when you're filming in empty, hollow or unfurnished spaces (like a vacant property.) Pack some dense blankets to drape or hang from surrounding, off-camera walls.
Get Aerial Video Footage Using Drones
It's never been easier to show the scope of a larger property, an amazing view, pristine landscaping or a whole neighborhood perspective. Many video marketing production companies, including Impulse Creative, now offer professional drone photography and videography for real estate. For expansive properties or clients without neighborhood/location context, drone footage provides an exciting way to show off your listings and rise miles above your competition.
Include Virtual Tours with Your MLS Listings
Virtual tours keep your MSL system listings competitive by maximizing your visibility and broadening your audience. Particularly for South Florida and other vacation or retirement destinations, virtual tours target virtual clients, making your listings more accessible to out of state homebuyers.
These non-branded property walkthroughs must comply with MLS regulations and need to be a good quality to keep viewers engaged. Instead of providing the MLS system with the link to your video's YouTube page, provide the link to where it's hosted on your website, driving traffic to your website's listing of the property.
Control How Clients See the Space
Control the buyer's perspective by showing your listings from the ideal point of view. Draw your viewers in with the home's most unique features as you paint a picture of what it's like to live there. Use the ideal time of day and lighting as you begin at the home's best entry point and walk through the property, narrating as you go. Provide necessary context for problem areas, using narration or even special effects like illustration to show a problem area's potential.
Supplement Listing Videos with Evergreen Content
Content that will be relevant for at least two years such as neighborhood overviews, local insights, tips and tricks for buyers or sellers, etc. Attract a wider audience by solving wider problems with your content. Don't just be a resource for buying a home, be the expert guide to entire geographical areas, saving money.
Post and Link in the Right Places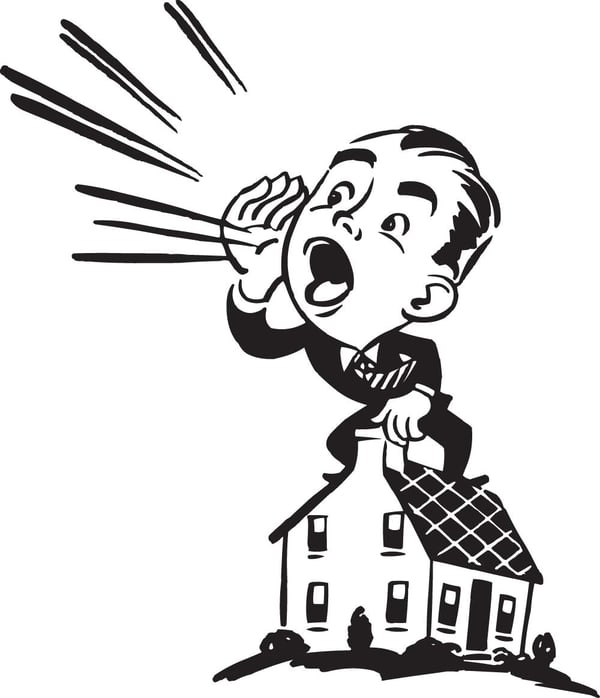 This one should seems obvious, but don't be hesitant to put non-entertainment business content on this platform. As the world's largest archive of online videos, YouTube has a niche for everything and everyone. But more importantly, this social sharing channel may be the first place prospective clients go to search for your listings.
As the typical choice for video hosting, the world has come to expect most videos to originate here. Don't disappoint your audience by not being a part of the YouTube community. Hosting your own branded video channel is easy, free and facilitates two-way communication.
Not every kind of video is allowed with your MLS listings but you're encouraged to include links to non-branded virtual tours of your properties, as long as they comply with MLS regulations.
Like all of your marketing content, new videos of your listings should be consistently shared on every relevant social media channel. Not only will regular sharing help your brand appear more active and relevant, appealing to both your audience and search engine algorithms.
Even if your videos are of past properties, you should be featuring them on your website to show the world the types of listings they can expect from your while bolstering your brand, breath of content and SEO.
And the Most Important Rule of Real Estate Video Marketing
Start recording now and don't stop!
Video marketing as a tool isn't going away, probably ever. The longer you wait, the longer it will take you to have a video library helping your seo score and driving your online business.
Reach out to our pros if you're having trouble getting started or have questions. We've got answers.