Impulse Insights Bi-Weekly Newsletter
Join the Crew of Hundreds of Other Marketing and Sales Pros!
Impulse Insights Newsletter
Join a crew of hundreds of marketing, sales and service professionals just liek you for bi-weekly marketing, sales, service and business growth news & insights.
We Want to Share!
The Impulse Creative crew ends up with a ton of content every week. We're always learning.
And we don't want to keep it to ourselves!
Our bi-weekly email newsletter is packed full of great content, insights, new tools and a dash of personality so you get to know us.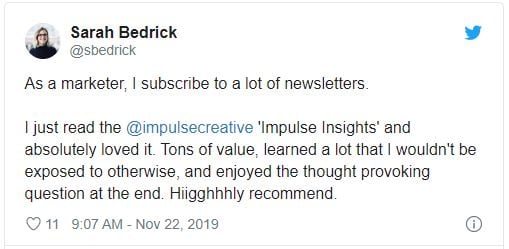 A few of our newsletter sections:
What We're Listening To (we're obsessed with podcasts)
What We're Reading
What We're Teaching
What We're Watching
IC Spotlight
GIF of the Week
Join the crew and get this content and more delivered right to your inbox every two weeks.
And let us know what you'd like to see in your Impulse Insights Newsletter!