All hands on deck! Let's hoist those sails and set a course for your company's growth voyage.
In this episode of the Wayfinding Growth podcast, we start by talking about:
Jeremy Vest's video setup

The thought process of companies/employees when they start using video.

Why video?
Navigational Instruments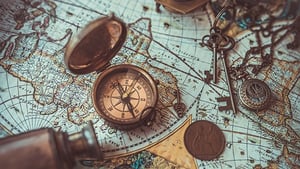 Just like wayfinders have charts, compasses, and chronometers, we want you to have the right tools to navigate yourself and your team to success.
In this section, Remington and George focus on their love of Jeremy starting with goals, strategies and audiences. We talk about how we were pleasantly surprised by the conversation being more business/marketing versus YouTubish/creator focused.
Remington mentioned his thoughts when Jeremy said "The video isn't the sell its the hand-off" and how the long game is a major focus for any company trying to grow.
Finally, we talk about the tools one might use to measure their video marketing success.
We loved that Jeremy said, "YOUR BRAIN" as one of the tools, so we bring it up again.
Then, we chat about the following tools:
vidIQ Tool

Tubebuddy

Databox

YouTube

HubSpo
This week's episode brought to you by: The Impulse Creative Video Marketing Audits!
Why it Matters for You!
You can't build upon your video marketing until you have a solid foundation.
By assessing your current video content and identifying gaps, we can help you to reach your marketing goals faster. We'll determine exactly what video content you need and how it can be improved as we review, revise and repurpose your existing content until it's performing at its peak potential.
Make sure your video channels are working at their peak performance!
Charting Your Course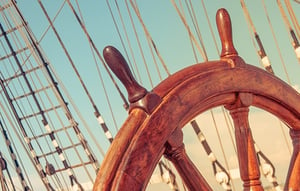 In the charting the course section of the show we get a little crazy and dive into topics like:
New punk rockers– YouTubers.

Each person should own their own video process.

Be yourself!

Build a process that works and works fast!
Get your weekly show notes and monthly deep dive newsletter!
Every week we will send you all the links to the tools, free downloads and resources we discuss here, to help you crush your company's success. Then, once a month, we will send you special deep dive content from the desks of Remington and George B. Thomas. Head over to the Wayfinding Growth page and sign up today.
This Week's Captain Killing It! Or (Killing Me #FAIL)
The one person navigating this week's dangerous seas of social media for their business and killing it at an admiral or a bosun's mate level.
Brian Fanzo
One of the most popular Tweets at #VideoMW18.
(Jeremy's video marketing event!)
We chat about Brian's press the damn button session at Inbound 2018 and what we think of him as a human doing his thing!
He is also going to be a future guest on the Wayfinding Growth podcast.
The Bermuda Triangle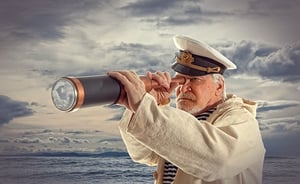 In this section we share what makes video seem difficult for most companies.
One of the things we always hear is, "Video is the hard!"
Our thoughts on that is ... HMMMM until it isn't.
We then spend a good amount of time talking about MINDSET and how that comes into play with several aspects of creating video content.
A couple other topics we hit on were:
Practice makes perfect.

Fail your way to being awesome at video.

YouTube 3-Pack.

Video answers win because humans want to watch, not read.

Educate amplifies trust levels.
Let's Set Sail
Thank you community, for your engagement and listener-ship.
If you have questions or topics you would like us to cover, let us know in the form below.
If you're listening to the show: Leave us a rating and review on iTunes. Maybe a couple nice words as well.
If you're watching the show:
Make sure

you subscribe

.

Hit that bell for instant notifications.

Give us your thoughts in the comments.

Share with your fellow Wayfinders.
Until next time, make sure you are doing all you can do to leave the dock of mediocrity and set sail for success.