Culture in the Modern Business
A quick Google search for "What is company culture" will net you this result: Company culture is the personality of a company. It defines the environment in which employees work. Company culture includes a variety of elements, including work environment, company mission, value, ethics, expectations, and goals.

Remington and Dan define it:
Remington - Culture and brand are intertwined. Brand is the image that people (the public) have of your company. Culture is the image your team has, and can unite behind. It's like a mirror. Everything in front of the mirror is brand, and everything behind the mirror is culture.
Culture is defined by choices, not by definition.
Dan - The interaction between employees, between teams, and between employees and leaders. It's what people say behind your back. Culture comes from both the top down, and the inside out. If your company's actions don't align with its core values, culture sucks.
For instance, if a core value is "People First" but management focuses solely on sales numbers and rewards sales people who trample on people, culture is toxic.
So... how does a company, especially with a hybrid team of in-house and remote employees, maintain a culture in the modern world?
This episode's sponsor:
This episode of Wayfinding Growth is brought to you by Sprocket Talk. If you're ready to take your HubSpot experience to a whole new level, you need to join Sprocket Talk as a Free VIP member. Tutorials, courses, training, HubSpot updates and more. Head to SprocketTalk.com/WG to join the movement and get an exclusive Wayfinding Growth deal!
Leaders: You Can't Force Culture (But You Do Inspire It)
Remington says there's a difference between building a culture (you can't control it) and inspiring a culture (you can guide it and influence it).
Remington says at the beginning of their hiring days, he and his co-founder Rachel used to obsess about culture. Around this time, Google and other tech darlings were in the news for their culture. Things like free beer, open office spaces, and other perks were the focus of many news stories. When Impulse Creative grew from a 2-person operation with an occasional freelancer into a legitimate agency that could afford a payroll, the Beggs focused hiring efforts on trying to woo people who wanted that kind culture.
A few years later, Remington says he learned how culture grew from employees, how different personalities interacted, and how the company needed different personalities to grow well.
"I want to inspire ownership." - Remington Begg on culture
He also learned that as much as he had a vision for how he wanted Impulse Creative's culture to develop, he had to understand that he only cast the vision, he didn't have total control.
"I want to inspire ownership," Remington says. "Ownership of the problem, ownership of the solution. That's the area where I try to inspire the most."
Employees with ownership of their culture can be powerful (and scary for an owner). As the team grew, Remington's piece of the influence diminished and the team's influence grew.
Have you found that as a leader? Do you see your job as an influencer of culture, or the one in control of culture?
Hiring is Like Marriage
When Remington hires someone, he thinks of it as a permanent solution. It's not temporary. He asks if he and the team can work with this person for the long term future.
Another way hiring is like marrying, is understanding that you can't change people. Don't expect to marry a person and change them. You can grow together, but as many marriage experts say, you can't fix your partner.
"We're walking into this relationship with an employee and we can't think 'I want to bring them on so I can change them.' We have to bring them on thinking 'I can live with this person for the rest of my life.'" - Remington Begg on hiring
This mindset means that if an employee was brought on for temporary reasons, they should instead be a temp or a contractor, not a full employee.
Modern Culture Navigational Tools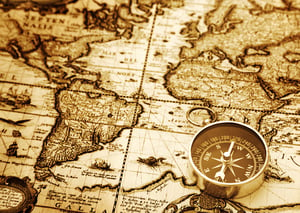 How does Impulse Creative navigate the culture journey? A few tools we covered in the conversation help us, and may help you.
Candor: It's one of our core values. It's the quality of being open and honest in expression. But with respect. We don't propose "brutal honesty." It's delivered with empathy. And it's hopefully received without pre-tense as well. This helps us live a culture of feedback and growth.
Empathy: Getting to know, like, and trust each other is critical. Remington and Rachel help foster this on a hybrid team with efforts to bring us all together throughout the year. We also use technology to connect, like video calls and scheduling random social times (we call them donuts - like having coffee and a donut with a coworker) help connect us.
Flexible Benefits: Understanding that a hybrid team with varying stages in life (singles, families, different states, etc.) helps influence a culture where we all feel known and valued.
Communications Tools: From feedback tools like 15Five to video communications like Zoom to messaging platforms like Slack, we use as many communications tools as we can. We have Slack channel like #gifgab, #random, #music and others where we can be social. Then we use others like #revenueteam, #inboundteam, #sprockettalk and others to manage conversations related to the company.
Does culture need to be a budget line item?
"It needs to be on your expense report. It's not going to be something you can go out and buy, but it's going to cost you money for camaraderie."
While culture isn't something you can directly put a profit line next to on a budget, but it should help overall.
One example of this for Impulse Creative is flying the entire team in for a Christmas party. The effort does nothing for profits, but it helps the team align and develop personal relationships with team members. When people know, like, and trust each other more, that team performs better and delivers greater work.
Subscribe for New Episodes Every Week
Be sure to subscribe on your podcast player of choice (or the email notifications below) for new episodes every week, Tuesday mornings at 7:00am EST. Wayfinding Growth is the go-to podcast to inspire entrepreneurs, business owners and leadership. "For better or worse, in richness and in want" may be for weddings, but it's also for businesses. We will be your navigator in this journey, no matter your level.
Love what we're doing? Leave a review wherever you listen!