Embarking on a Journey
In this episode of the Wayfinding Growth show, we speak with Joel Comm about his new book The Fun Formula.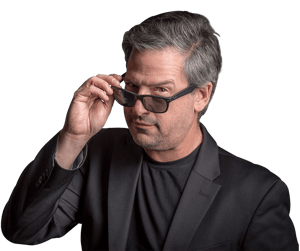 This may be the most fun episode in the history of fun episodes. We also talk about the grind, the hustle, working smarter and much more.
Before we even get to the Charting the Course section, we jump into the topic of "curiosity" and having a mindset of "always learning".
This mindset, has impacted Joel's life over the years in very good ways.
Joel talks about how he has created and how his biggest successes have been when he has been having the most fun.
He mentions that he is anti hustle and grind movement.
Joel shares how he makes a living as well as some waypoints in life.
He chats up his podcast The Bad Crypto Podcast.
Joel talks about purpose, money falling from the sky and being spiritual versus religious just to get us going.
Charting The Course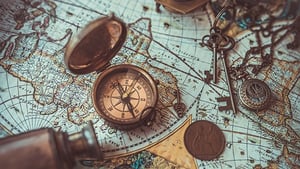 In the charting the course section, we start by talking about the Fun Formula book.
Joel shares that it is a business book that looks like a party!
He shares that there are seasons of life when you need to buckle down and get work done but, most times, you need a different perspective.
He talks about people, experiences and leaving everything behind when we check out of this great big world.
Joel talks about his seven grand slam business moments and how it always came down to the risk equaling the pay off. Be willing to take risks in life to be successful.
Joel then spins into the conversation of finding your own core and being yourself to find your full potential and success.
Joel then shares how he is just a dude that has been blessed and that has had extreme failure.
He shares how failure is the greatest of teachers.
We talk about so much more in this section, listen to find out more.
Navigational Tools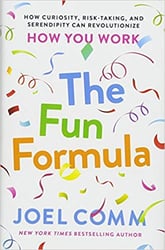 The Book: The Fun Formula
Find more success in work and in life than you ever dreamed possible—by pursuing fun.
The demands of work and the breakneck pace of technological change wear heavily on all of us, whether we are employees at a large company, solo workers in the gig economy, or entrepreneurs launching a new venture.
The "hustle-and-grind" lifestyle that we've been told is essential to success actually leads to physical ailments, emotional burnout, and a darkness in the soul.
This Episode Brought To You By: Our New Video Fundamentals Masterclass
Business videos aren't as tough to create as some would make you believe. We've seen incredible success with the video strategies we've honed and now, we're sharing those fundamentals with you in this exclusive masterclass.
Head on over to impulsecreative.com/vfm to be the first to get two free modules.
The Bermuda Triangle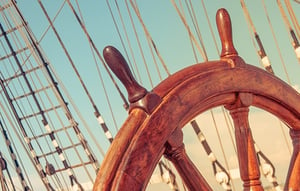 In the Bermuda Triangle section we dive deeper into this thought of life, work and the fun formula of life.
Joel talks about bad teaching, hard questions, and what value you add into the world.
Joel talks about bad teachers and how once you get past school, age is only a number.
Joel spins into how we are teaching kids the wrong things! We teach social norms versus real world skills. Boom!
Remington talks about the underlying thread of the interview. Joel asks listeners to listen to what he means versus what he said. We all laughed!
Get your weekly show notes & monthly deep dive newsletter!
Every week we will send you all the links to the tools, free downloads and resources we discuss here, to help you crush your company's success. Then, once a month, we will send you special deep-dive content from the desks of Remington and George B. Thomas. Head over to the Wayfinding Growth page and sign up today.
Captain Killing It
This week's Captain Killing it is, Lou Mongello!

A Disney expert, podcaster, keynote speaker, entrepreneur, author, and host of WDWRadio, named Best Travel Podcast for 9 consecutive years.
He's also the author of books and audio tours of the Disney Parks, and founder of The Dream Team charity project, which sends children with life-threatening illnesses to Walt Disney World.
Lou also read the forward of The Fun Formula book.
Learn more about Lou Mongello.
Setting Sail
Thank you community, for your engagement and listenership.
If you have questions or topics you would like us to cover, let us know in the form below.
If you're listening to the show: Leave us a rating and review on iTunes. Maybe a couple of nice words as well.
If you're watching the show:
Make sure you subscribe.

Hit that bell for instant notifications.

Give us your thoughts in the comments.

Share with your fellow Wayfinders.
UNTIL NEXT TIME, MAKE SURE YOU ARE DOING ALL YOU CAN DO TO LEAVE THE DOCK OF MEDIOCRITY AND SET SAIL FOR SUCCESS.