Where's the Dialogue in Marketing?
At the dawn of the marketing age, businesses reached potential customers first through local conversations with trusted people. Quickly technology like the printing press brought the ability to reach people with a new medium - brochures, fliers, direct mail and more.
As technology often does, it changed again when radio waves began to reach ears across regions, bringing new voices to homes; and with it, commercials.
The dawn of push marketing and advertising was upon us.
Fortunately, the internet brought a major shift. Consumers now had access to information that was once in the hands of sales teams and businesses. The age of pull marketing (or inbound marketing) had arrived.
As inbound has evolved, a new discipline has emerged: Conversational Marketing. The two-way communication between brand and consumer means we have new tools and tactics to earn the attention and the trust of our end-users.
So now instead of the traditional marketing model of interrupting our audience's day, we become part of the conversation.
Now instead of being that guy pestering someone at the coffee shop for their number when they're just trying to enjoy their soy mocha latte, you're a trusted connection that helps further the conversation.
We have the chance to stop marketing in a way that's so forceful and, frankly, try-hard.
The key here is approachability. It's availability. It's independence.
You need to market without the typical annoyances of old-school techniques, aiming to be the intellect that attracts attention, not someone who begs for it.
When you create an environment which invites engagement— and someone approaches you, mutual dialogue is created, and that's all you need to make a connection.
One might call it serendipity. We call it conversational marketing.
What is Conversational Marketing?
Let's look at the root of this phrase: conversation.
It's marketing with a one-to-one focus, not one-to-many. It's like a personal inbound strategy. Conversational marketing is, at its core, more like a conversation with a friend or referral instead of talking to an audience. The idea is that it's a different way to communicate than how we do with large groups. Instead it's like you're casually talking with someone— because actually you are.
Think about serving your customer answers to their questions; solutions to their difficulties. Of course, you don't want to fall into the habit of interrupting. Conversation marketing can have the allure of traditional tactics by shouting at prospects. Instead, use technology to be available when needed, answer the questions asked and connect a user with a human when they're ready.
In other words, instead of old-school marketing where you shove advertisements or sales pitches in someone's face, conversational marketing is about creating availability to communicate with prospects, when they're ready to talk.
That's it. Your role as a marketer- or as a company- is to foster an atmosphere where you're present and people know they can reach out when needed.
Like that friend they text with a quick question, you're only an IM away.
Conversational marketing is about making business personal— without the sales pressure.
What Conversational Marketing is Not
Perhaps the best way to answer the question "what is conversational marketing?" is to actually explain what conversational marketing is NOT.
Conversational marketing is NOT a way to get more traffic. It's not a fancy tool to attract prospects to your site; it creates an opportunity to leverage the traffic you already have.
In the world of inbound, forms and landing pages are the name of the game. We ask people to share some information about themselves in exchange for information— like a content offer— or, in exchange for our help.
Conversational marketing is NOT a shiny new form either. Though forms can be extremely helpful under the right circumstances, they're not always the best method for getting interested viewers the quick answers they need. Faced against complex or intimidating forms, it becomes a chore or elicits suspicion (why are they asking for my address?? Um, no thanks).
That's how bounces happen— and you lose the lead.
Instead, conversational marketing brings marketing and sales back to its roots. It becomes a one-on-one conversation with your prospects. You get to retrieve information in a more natural way, without the dreaded feeling of sharing private info with a stranger.
Instead of typing information into flat form fields and waiting for a real person to reach out sometimes days later, conversational marketing is an instant exchange of dialogue— a real interaction, an actual conversation, all happening in real-time.
How Does It Work?
In a world that thrives on online interactions, people often find your business by Google search.
For most businesses, the website is their biggest marketing asset. But oftentimes, there's no personal connection with online interactions— no one greeting you with a smile and a "hello!" Just a static webpage. Or worse, someone receives an automated pop-up that's clearly mass-triggered, devoid of personalization.
One principal idea of conversational marketing is that someone (or something) is always there to welcome and serve visitors.
An actual conversation that happens, online.
Not only is this conversation near instant, but it's designed to be a one-on-one exchange, creating instant trust between the prospect and your brand.
Using Chatbots & Artificial Intelligence (AI)
Realistically, most companies can't have team members available 24 hours a day, 7 days a week to help prospects and customers.
Lucky for your business, technology has become so advanced that you don't need to.
Artificial Intelligence (AI) bots are becoming just as "smart" as humans— if not also more efficient in many ways— with the ability to process data, track patterns and respond much quicker than your average office worker. It's no wonder businesses spent over $12 billion dollars on artificial intelligence in 2017 alone.
But how exactly are robots are supporting our point of making marketing more personal?
AI is not meant to replace conversation; it facilitates it.
Think of these quick automatic responses as merely an initial touch point. For simple questions and requests, the bot can serve a quick answer. If a chatter asks how late you're open, you can program your bot to serve up your hours of operation - straightforward results.
The searcher goes on their merry way. And since your team set up the answer once and it's repeatable, your employees wasted no time.
Bots can perform a variety of simple-yet-time-consuming tasks such as answering common questions, directing chatters to a specific page for more information, or even setting meetings with a member of your team by pulling availability from their calendar.
These "micro-messages" provide the questioner instant gratification and simulate a real interaction, often seamlessly going unnoticed as AI (because a real person structured the answers in your brand voice).
When the conversation gets a little heavier— say a chatter asks for an opinion or a more detailed explanation— the chatbot switches gears and alerts a team member.
The Human Element
Though your chatbot has the ability to lead different searchers on quick paths to their answers, there will be a few that visitors who need more guidance.
You don't want to frustrate these users by forcing them to keep engaging with a chatbot. They'll reach a point where they realize they're not talking with a real person, and that in order to get their answer, they need to be.
If you resist scheduling a time for them to start an actual conversation, or resist passing them over to a real person, they'll likely leave to find their answers elsewhere.
Once again, you should use AI to facilitate a conversation, not replace one. This is where an actual person steps in.
Regardless of whether someone is available to instantly or not, your chatbot should be able to lead your visitor to a place where they can take the next step towards arranging an interaction with a human being based on their timeline, not yours.
The Instant Benefits of Adopting Conversational Marketing
Why should you consider adopting a conversational marketing strategy? Let's break it down into a few important benefits:
Make office hours irrelevant. // Marketing is all about reaching the right people, at the right time, with the right information. Chatbots remove the hurdle of business hours and time spent waiting for a salesperson for assistance. No need to have staff on after hours standby; your bot is always present.

Create less friction. // Maybe your chatter doesn't want to talk to someone or hear from anyone with follow-up emails. Filling out their information on a landing page might deter them for that reason alone, thinking, "Who is going to harass me if I share my email?" Ease website visitors into the process with live chat instead, by asking them their contact information one detail at a time.
Introduce micro-conversations. // People simply don't want to have long, drawn-out conversations when seeking answers. Businesses who win the customer often offer fast solutions, packaged in helpful tidbits. If the problem doesn't have a quick fix, you can still lead them in the right direction without a lengthy (and oftentimes overwhelming) discussion with live chat. IM often seems more approachable than picking up the phone, too.

Reel in more leads. // Instead of a daunting form, prospects likely won't feel forced to hand over information. A chatbot or person can ask them natural questions in an engaged conversation. All data will be captured in the appropriate form fields and saved to their contact database. Best of all, you can ask questions that matter most to your sales team to produce more sales qualified leads and at the same time be providing value for the prospect.

Accelerate the buyer's journey. // Having a live conversation with someone makes it easier to determine their specific pain points. Not only can you instantly identify their persona, but you can also identify what's slowing down the conversion and guide them down the funnel.

Sales support on "speed dial." // A conversational marketing tool can help qualified leads connect with a sales rep. If the chat bot (or marketer) determines the prospect is ready to talk to the big guns, they can instantly schedule a meeting using a calendar widget. Or, if your sales team is available, they can start a micro-conversation right there in the chat or actually pick up the phone and establish an immediate rapport.

Instant problem-solver status. // You have the chance to instantly establish your company as the searcher's source for answers. Your brand will likely come to mind next time they need a solution, remembering you had their back previously. You build trust.

The Four Principles of Conversational Marketing
There are four core principles of conversational marketing:
A Conversational Strategy
A Personalized Experience
A Real-Time Response
A Feedback Loop
1) A Conversational Strategy
Like anything in marketing, the magic all starts with a well-devised strategy. The conversational approach is no different.
Start by taking a holistic look at how you're inviting interaction on your website.
Compile a list of all the ways a prospect could engage: forms, social messengers, phone numbers, emails, etc. - any channel in which a customer can communicate with your brand. Be especially mindful to assess how you're welcoming interaction on your high-intent pages, such as your pricing, service and landing pages.
Conversational marketing prioritizes offering one-to-one, personal conversations across all these channels.
Hang tight. We'll expand on your overall strategy further down.
2) A Personalized Experience
When it comes to the copy on your website, your writers probably wrote for a wide audience. That works when users are reading a static webpage, but conversations don't work that way.
We're talking about the difference between giving a speech to a mass audience versus talking one-on-one with an individual.
In order to create a genuine conversation, you need to address the person you are talking to, personally; not cultivate responses for a generalized buyer persona.
When considering trigger responses (we'll dive into this below too), make sure it's a real conversation with the person with whom you are engaging.
3) A Real-Time Response
You're 100 times more likely to reach your prospect if you call within five minutes of their inquiry, according to a study by Lead Response Management.
How long does it currently take your team to get back to prospects?
If someone reaches out after business hours, they will likely need to wait until the business opens again to get a response, right? Even if their outreach is during your on-the-clock time, it might take an hour or more before you check your email or come out of a meeting to check your voicemail.
And if they filled out a static lead form— forget about it. It might take days to get a response from a neglected group inbox.
You'd be surprised by how quickly users change gears. If you aren't there to serve someone's needs when they need it, they'll likely try to find another resource.
Conversational marketing utilizes bots, who are available 24/7 to instantly reply. That means that connections are made instantly, and engagement immediately captured.
4) A Feedback Loop
You're always on the fast-track to making improvements for better efficiency with conversational marketing. Review your chat transcripts and use the bottlenecks within the context to fuel future content.
For example, if you notice that your AI is struggling to find a spot to send searchers for quick answers to a specific question about your services, maybe it's time to add it to your FAQ page or set up a recognized reponse.
This is an ever-evolving process, continually living, breathing and needing to be supervised to continue to serve your customers changing needs.
After time, you'll notice when it's the right time to send the chatter to a real person, and what's easiest for the bots to quickly answer.
The Conversational Marketing Methodology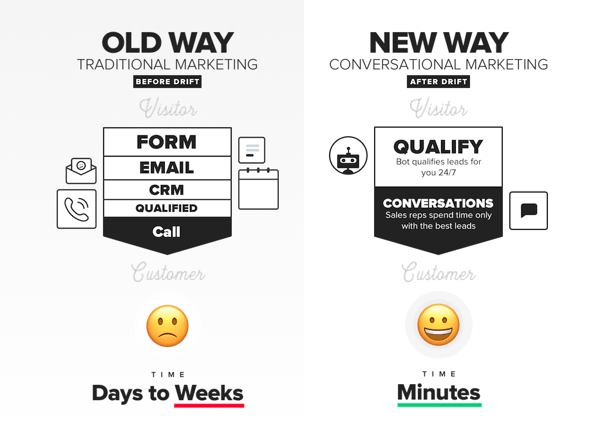 Just like any idea, sometimes it's easier to understand if we break it down into stages. Here's how the conversational marketing methodology works:
Step 1: Capture
First your chat bot will be tasked with capturing all conversations, whether through AI or an interaction with a real human. That means that any details sent in the instant messages should automatically go to your CRM or email service provider to store the data.
But where exactly should you put these chat pop-ups to best capture traffic without being overbearing?
If you already get a decent amount of website visitors, we recommend targeting your high-intent pages only, or the places where viewers would be most serious about buying. For example, your services or pricing page would be an ideal place for questions to get answered, though you can command your chat widget to only show to certain visitors or on particular pages.
Step 2: Qualify
You have an improved chance of landing a lead if you respond within five minutes of their inquiry, according to InsideSales.com & HBR. The problem is, barely anyone is that speedy!
Stand out from the competition by setting up your bot powered by AI to be there when you can't and qualify leads for you. Turn your sales team's traditional qualifying questions into scripts for your bot.
For instance, you could have AI ask a visitor of your product's page, "Do you have any questions about this product?" If they say "No" they can be sent a disqualifying wrap-up statement like "Ahh, bummer. Well, I'm here if you think of something ;)."
Leads that do qualify can be routed to a sales rep. Or if it's after hours, you can serve up a calendar widget to book a time with someone at a later date. This leads to our third step, Connect.
Step 3: Connect
Step three is all about pushing the bots aside— they did their job!— and getting your lead in contact with an actual human.
If a sales rep is ready to roll, great. The bot will alert a member of your team to take over the chat.
If everyone's busy or the right person is out of the office, your handy-dandy bot can say, "Alrighty. Let's get you a time on Remington's calendar!" and serve various dates and times to book a meeting.
Again, all roads lead to a real conversation in this methodology.
How to Adopt Conversational Marketing
Use these six steps to build your conversational strategy:
Map Out the Buyer's Journey
Create User Stories
Role Play the Conversation
Identify Triggers for Next Question
Identify Different Branches of the Conversation
Publish and Promote
Analyze and Iterate
1) Map Out Buyer's Journey
If you're new to inbound, you might not know what a buyer's journey is. HubSpot does an excellent job going into full detail, but basically it's a three stage process, from the moment a searcher realizes they have a problem all the way through their decision to choose a solution.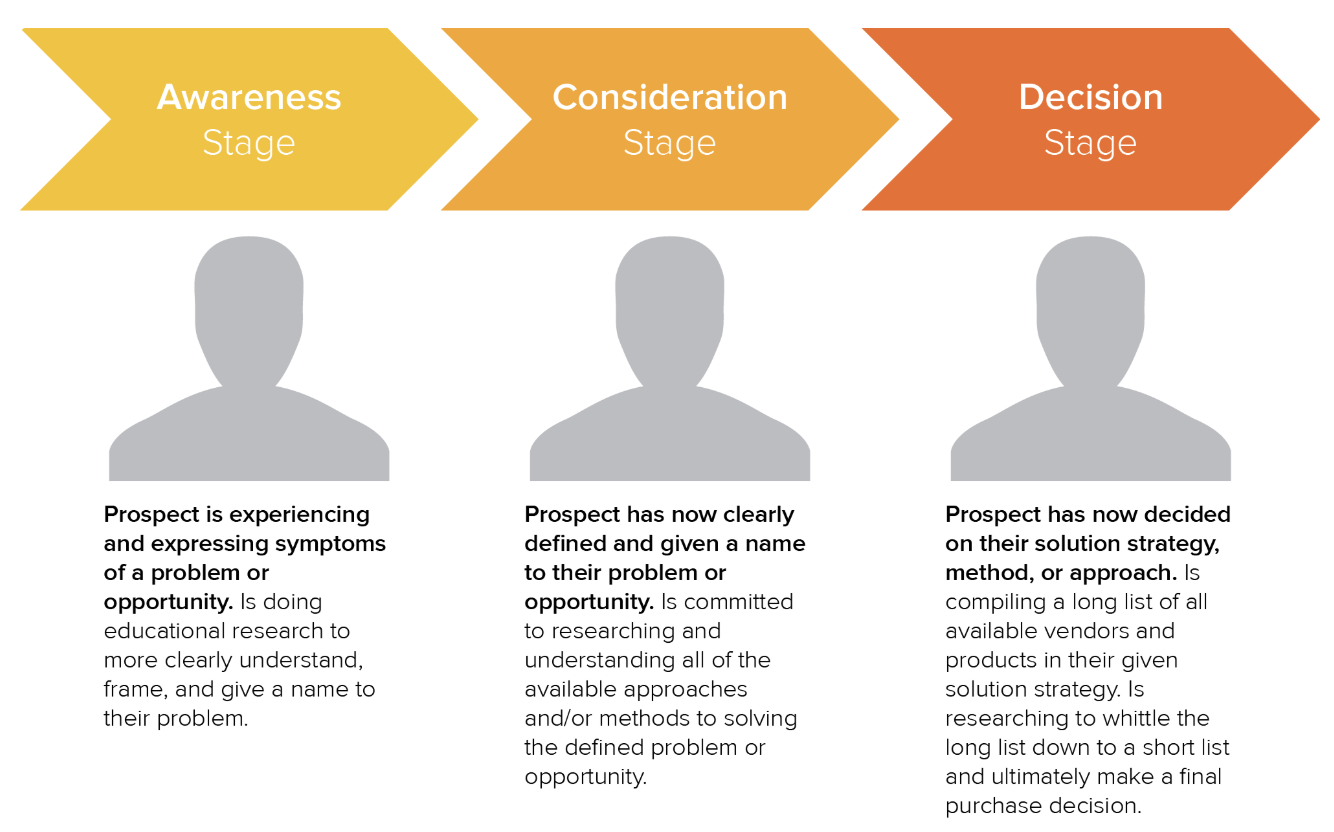 For every piece of content you create, you must understand what part of the journey your targeted persona is likely in and how what they consume will nurture them throughout the sales process.
Let's look at an example. One of services here at Impulse Creative is SEO. The end goal here is to get someone to buy our services, so we must look at how we're serving the needs of early researchers, who might be new to the entire concept of search engine optimization, all the way through to an expert in the field looking for a customized solution to a specific ranking need.
We've created top of the funnel content pieces for those trying to get a broad understanding of the topic- the Awareness stage. For example, someone might be starting to discover what SEO is by searching why their business isn't appearing on the first page of Google, so we created this article and a series of content for those just learning.
We then cultivated content for those in the Consideration stage- the middle of the funnel. This audience has an understanding of what their problem is, but need to research some ways to solve it. For this, we created content to support our SEO funnel like our post on optimizing Google's Knowledge Graph. These users know where they want to rank, but now they need to discover how.
Finally, we really razzle-dazzle those ready to move towards their solution with bottom of the funnel content, like content specifically discussing how your company wins, and displays expertise in the area. This is the Decision stage.
Do you have pieces of content for each stage or part of the funnel? This is an extremely important step, as your conversational marketing strategy requires you have a place to direct people for answers— and you know the best place to send them based on their place in the buyer's journey.
2) Create User Stories
This is a method used in agile development, as a short but effective way to understand your users' objectives.
Follow a simple template:

I am a [type of user], I want [some objective] so that [some reason].
For instance, one story of a potential user of our website might be: "I am a marketer and I want to get a new website, so that I can get more qualified leads."
Create a bunch of these user stories based on your personas. (If you don't have clearly defined customer types— pause and develop some buyer personas). These semi-fictitious representations of your potential buyers will help you start to associate different users with different pain points, ultimately preparing you for the next step of the conversational marketing strategy...
3) Role-Play the Conversation
Now we're going to role-play some conversations you might have with your potential customers. Place your user story at the top of a board and write out possible dialogue on sticky notes to paint various discussions that could happen.
You want to be able to truly visualize how the conversation will progress in order to know what automated answers you might need and where to direct users to get more information.
4) Identify Triggers for Next Question
Determine what buttons or links you'll need to provide users to get additional information. Or, maybe a simple text answer does the trick!
If a chatter asks for your hours, for example, you could use AI to send them the hours for that specific day, or choose to direct them toward your contact page for the answer, which outlines your weekly open and closing times.
Start thinking about when a query becomes too complicated for AI and would need to trigger an alert to an actual team member to join the conversation. You'll have to draw clear lines to address what's easier to automate and what's more beneficial to toggle over to a real person.
5) Identify Different Branches of the Conversation
When creating these conversation flows, you might notice that some roads lead to the same place. Is there a way you can utilize specific triggers to send a user into another flow, seamlessly?
6) Publish and Promote
Once you've created your paths for your website viewers, your chatflows, it's time to let the world know. Users have become accustomed to seeing a chat bubble on web pages, as more businesses use them. But including calls to action on your site like "Talk to someone now" or "Ask us a question" help let viewers know you're there to help.
You can also use exit pop-ups to encourage those leaving to give you a chance to answer their questions. A simple lightbox could say "Did we answer your question? Before you leave, let us know."
Additional promotion could include sharing social media stories about how your customers and your audience is engaging with your conversational strategy and your chatbot.
7) Analyze and Iterate
Once people start engaging with your chatbot, you'll want to make sure you're measuring success. You can't improve what you don't measure.
For instance, you might notice that people start falling off the conversation at certain points. Why? Did the reponses start to sound too "robotic" and they became disinterested? Were you not doing the best job answering the question or making them search too hard for a solution?
Find where the friction lies and work to smooth things over. Be sure to test variations and find the best fit for your audience.
You may also find that a bot on a particular page sends more sales qualified leads to your sales team than previous tools like forms. Analyze things like the script, the responses, the response time and more to see why it's working so well. When you find something that works, do more of that!
Choosing Your Chat Platform
After you've created a powerful conversational marketing strategy, your final step is to choose your chat platform.
Real-time conversations can occur on a chat feature on your website, social media instant messaging or SMS. All of these software solutions can help you reach your micro conversation goals.
Drift
Drift's tool allows you to create something called custom playbooks. You stage conversational paths or "conversational logic," where the bot asks the user a question based on their response or when they trigger a goal completion.
Button click response and keyword cues help to guide the conversation, right inside the chat box. You can even add message delays to make your bot look like a real person typing! Yowza.
With all its simple yet profound bells and whistles, Drift's our platform of choice here at Impulse Creative. We love it so much, we use it across our entire website. Curious to see how it works? Engage with our CEO, Remington, when he's online!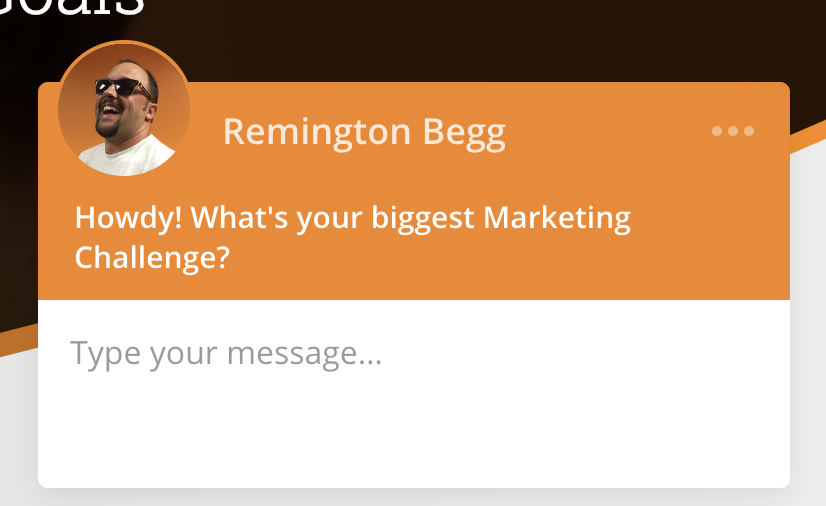 Chatfuel
Want to have auto-responses on your company Facebook? This conversational marketing tool is a great resource to utilize when looking to create a chatbot on Facebook Messenger. In fact, they power 46% of all bots on Messenger, including chat technology for big brands like BuzzFeed, Lego, Adidas and more.
Chatfuel allows you to automate responses to the most common questions, with triggers to lead users to the right place, or the right person, to get their answers.
It will automatically pull in certain user information from the user's Facebook profile, including their first and last name, gender, location and profile pic URL. You can use these fields to help you segment your list for broadcasts and campaigns.
The platform offers a free plan with a limit of up to 5000 subscribers for those who'd like to play. Or, check out this comparison between Chatfuel and another platform, ManyChat.


Twilio Studio
These guys can handle the chatbot features described above, but have a name for themselves as the masters of text messaging conversations.
Twilio Autopilot uses a declarative API as well as unique triggers to lead SMS interactions in certain directions.
For companies who need to protect user's privacy, Twili Proxy can mask phone numbers between users to protect personally identifiable information.
Plus, they allow you to create custom code for handling call flows, so if you have a programmer on your team, they'll be delighted to have some creative freedom.
HubSpot Live Chat Software
For those using HubSpot's Sales Professional, the CRM makes it easier than ever to integrate with your current website.
With HubSpot's Live Chat Software, you can create targeted welcome messages for different pages or segments of your audience— and just like the other conversational marketing tools, all chat exchanges are captured. HubSpot adds them right to the contact timeline. This is perfect for keeping your data organized and in one touchpoint for your entire team to see.
It also integrates easily with the messaging system Slack. It features notifications for new conversations and sets up the details of the conversation in a thread, so you can get notification and respond directly. This allows for conversations to happen without the need to open up new "channels" for each customer and is easier to manage.
Also, when connected to the HubSpot CRM or HubSpot Marketing Hub, marketers have the ability to segment users (and chatflows). You can listen to known users based on list membership (ie Active Lists [previously known as Smart Lists], or Static Lists) or not show based on list membership. This can be incredibly powerful because contacts that are in your sales pipeline can see different messages on your pricing page versus those that are not, for example.
As you're building your chatflow in HubSpot you have the ability to save chat inputs into the contact record of a user. What's great is that you can also completely skip the question if you already know it. (IE: if you already know the contact's name, company name, etc). In addition, based on the information you know of the contact in the CRM you can also create conditions around the chatflow questions. This is incredibly powerful to build additional context into your conversations.
Compare HubSpot Conversations to Drift
Ready to Make Business Personal Again?
We spend a lot of time encouraging prospects to reach out, saying "email us, call us, visit our office, etc." But when a person wants answers fast, at their own convenience, a delayed response time can mean a lost opportunity.
Remember, we're not in the marketing business— we're in the relationship business. Conversational marketing helps you make those fast connections, forming an instant bond between your company and the prospect.
Bring conversation back into sales with natural dialogue.
Get better qualified leads and shorten your sales cycle with live chat today.